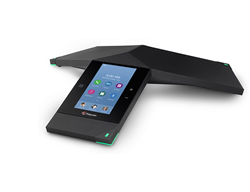 Polycom's innovative products empower people to seemlessly integrate mobile devices and laptops into office meetings.
Milwaukee, WI (PRWEB) October 08, 2015
IP Phone Warehouse, the premier online reseller of VoIP equipment, is proud to announce two new audio collaboration solutions from Polycom. Polycom RealPresence Trio is an innovative, easy-to-use conference phone that brings not only HD audio, but also video and content to the meeting room. Polycom VVX business media phones will support the Microsoft Office 365 cloud voice services.
Polycom RealPresence Trio 8800 transforms the conference phone into a scalable collaboration hub while retaining the cherished three-point Polycom look. With RealPresence Trio Visual+, this business solution integrates "great audio, great video, and great content" in simple-to-use fashion: only one tap on the touchscreen is needed to join a meeting. View collaborators in HD, share content in real-time, hear speakers in perfect sound quality, all from the conference phone.
Polycom has included a full suite of audio technologies with the Trio. Its 3 cardioid microphones provide 360° coverage for a 20 ft radius. HD Voice delivers the highest quality audio experience for business conferences available today. Acoustic Clarity combines echo cancelling and noise reducing capabilities with advanced voice processing to remove disruptions. NoiseBlock eliminates distracting sounds in the background during conferences.
Polycom RealPresence Trio pairs with mobile devices and laptops for simple content sharing, and is broadly interoperable with major unified communications platforms such as RealPresence Platform and Skype for Business.
Polycom is also enabling Polycom VVX business media phones to support and interoperate with Microsoft's forthcoming Office 365 cloud voice services. Polycom is the first provider to work with this audio conferencing platform.
As communication technologies are becoming more unified, Polycom has looked to the future of work and realized a portfolio of collaboration solutions that puts them at the forefront of business conferencing. Polycom's innovative products empower people to seamlessly integrate mobile devices and laptops into office meetings.
Contact IP Phone Warehouse by phone: (888) 201-9056 or email: service(at)ipphone-warehouse(dot)com to learn more about the latest audio conference offerings from Polycom.
About IP Phone Warehouse:
IP Phone Warehouse is the leading specialty reseller of VoIP phones, video conferencing equipment, IP cameras and network devices. We're stocked with everything that small businesses and enterprises need to deploy reliable VoIP and video solutions. A dedicated customer service team and a wide range of available online resources support every product at IP Phone Warehouse.