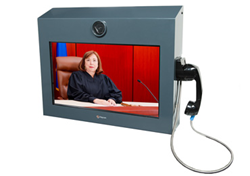 Vandal-resistant buttons, a reinforced handset cord and a 14-gauge steel housing protects the equipment from impacts and damage.
Milwaukee, WI (PRWEB) September 17, 2014
IP Phone Warehouse is excited to announce the availability of the Polycom RealPresence VideoProtect 500, a specialized video conferencing system designed for governmental, judicial or public use.
Reports show that video conferencing equipment can save organizations and individuals an exceptional amount of money that is otherwise spent on travel expenses or wasted time. Whether that means attending far away business meetings or doctor visits. Corporate and healthcare industries aren't the only ones that benefit from video conferencing.
Jails have to transport inmates every day to court for scheduled hearings or at a judge's request. The expenses add up—from using vehicles, to using the officers' time. Video conferencing can fix all of that.
The Polycom VideoProtect 500 is the solution. The system features:

14-gauge steel enclosure
Wall-mountable housing
Polycom Group 500 codec
EagleEye Acoustic camera
22" color LCD display
Handset and hands-free modes
HD 1080p60 video and audio
The power of the Polycom Group series delivers full HD video and audio between users to create an in-person experience. Also built into the system is a microphone and speakers, so no additional components are required.
Vandal-resistant buttons, a reinforced handset cord and a 14-gauge steel housing protects the video conferencing equipment from impacts and damage. The panel over the 22-inch display and mounted camera is hardened for maximum protection.
Program the Polycom VideoProtect 500 with modes like auto-answer or auto-dial, with the handset, speakerphone or both the handset and speakerphone enabled. The system is ready to facilitate any type of use or working environment.
Top uses for the Polycom VideoProtect 500:
Governmental operations
Judicial and court system
Public use or exposure
Discover everything about the Polycom VideoProtect 500 and the Group 500 at: http://www.ipphone-warehouse.com/Polycom-RealPresence-VideoProtect-500-p/7200-64890-001.htm.
For more about this system and additional video conferencing solutions, contact IP Phone Warehouse's free pre-sales technical support team through email at service(at)ipphone-warehouse(dot)com or phone at (888) 201-9056.
About IP Phone Warehouse
IP Phone Warehouse is the leading specialty reseller of VoIP phones, video conferencing equipment, IP surveillance cameras and network devices. We're stocked with everything that small businesses and enterprises need to deploy reliable VoIP and video solutions. A dedicated customer service team and a wide range of available online resources support every product at IP Phone Warehouse.