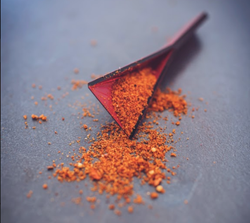 When creating Polygons, we decided to engineer the spoon with a flat design because it mimics the human hand.
(PRWEB) October 11, 2016
Polygons are flat measuring spoons that fold into 4 different measurements depending on the position they are picked up from. The innovative spoon is currently available for pre-order on Kickstarter to raise $25,000 in 35 days to finalize production.
Polygons helps to eliminate the need for multiple tethered measuring spoons and the annoyance of sifting through drawers to find the correct measurement size. Polygons spoons come in two sizes (tablespoon and teaspoon) and transform into 4 different measurements each, depending on the position the spoon is picked up from. The tablespoon measurement can hold 1/4, 1/2, ¾ and 1 teaspoons, while the teaspoon can hold ½, 1, 1 ½, and 2 tablespoons.
"When creating Polygons, we decided to engineer the spoon with a flat design because it mimics the human hand," Polygons CEO Rahul Agarwal said. "When your hand is not in use, it lays flat. But when you want to hold a heap of sand, or some water, you cup your hand to create some volume, depending on how much you want to hold - that is exactly how Polygons works"
For over 3,000 years, spoons have not changed their basic shape. The curvature of the end once seemed to be the only way to scoop up a desired amount of any ingredient. However, when the time comes to begin cleaning the spoons after use, the handle and the curvature of the spoon have to be dealt with separately, and running water splashes on the curvature and creates a puddle on the counter. The flat design of Polygons make cleaning so simple that dry, wet, or sticky ingredients can be easily wiped off with a sponge using less effort, soap, and water.
When folding flat, Polygons takes up one-tenth the space of a normal spoon. This property allows for Polygons to be easily stored and carried in a variety of situations. For example, it can be used as a bookmark in a cookbook to save one's favorite recipe in the kitchen.
Polygons can also be used for spreading ingredients, like jelly or honey. The ingredient can be scooped up in Polygons' folded state, and then be applied in its flat state. Polygons is made of PP and TPR plastic to ensure the measuring spoons are extremely durable. The plastic is also FDA-grade and is BPA-safe for use with food.
Currently, one set of Polygons spoons can be purchased for $10. This set includes one tablespoon and one teaspoon Polygons measuring spoons. For more information or to purchase a set of Polygons, please visit bit.ly/PolygonsKS.
ABOUT POLYGONS
Polygons was created in 2014 by Rahul Agarwal. An India native, Agarwal is an inventor, designer and a teacher. He's worked on products ranging from the simplest of stationery to complex head-up display systems. As a design student at a renowned Indian university, he was given this advice by a senior – "Do not tackle designs that have reached the final stage of their evolution. For example, a spoon". From that point on, Agarwal dedicated his efforts to reinventing the wheel when it came to this object, and the idea for Polygons was born. After extensively testing with various shapes and materials, he arrived at an optimal solution. Over the past three years, Polygons has won various design awards and thousands have expressed interest in the invention. For the inventor in Agarwal, there could be no greater satisfaction than to see people using what he had created, so he got to task. To learn more about Polygons, please visit http://www.getpolygons.com.