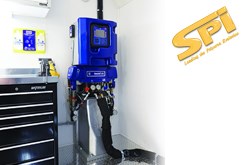 Polyurea and spray foam must be processed at the proper heat, pressure, and fluid ratio to ensure the installed product meets the specification. Graco's Reactor 2 equipment series has now made this critical process a lot easier to manage.
Lakewood, Washington (PRWEB) February 17, 2014
Specialty Products, Inc. (SPI), a global leader and innovator in the manufacturing of polyurea protective coatings, will feature Graco's new Reactor® 2 plural component proportioner, and SPI's Spray In Place Pipe (SIPP) internal pipe lining technology at the 2014 PDA annual conference, March 24 – 26th in Houston, Texas. PDA conference attendees will have the opportunity to get an up-close view of the latest technology available in the polyurea protective coating market. SPI's Vice President, Chas Weatherford, will also give an informative conference presentation about the emerging market opportunities for Spray In Place Pipe, internal lining technology for rehabilitating critical worldwide pipe infrastructure.
The Problem: Rapidly Deteriorating Drinking Water and Wastewater Infrastructure
Much of the worldwide infrastructure for drinking water and wastewater is rapidly deteriorating and decades past its original intended service life. In 2013, the American Society of Civil Engineers (ASCE) published a report card for America's infrastructure. The ASCE report card gave an alarming "D" letter grade for the U.S. drinking water and wastewater infrastructure. The capital investment needed to repair just the U.S. wastewater and storm water systems is estimated to total $298 Billion U.S. dollars over the next twenty years. Pipes alone represent 75% of this much needed expenditure. Properly solving the issue of aging drinking water and wastewater infrastructure will be critical for current and future generations.
The Solution: SPI Pipe and Tank Protective Lining Systems
Specialty Products is an industry leader for tank and pipe, primary and secondary containment lining systems. SPI's trenchless pipe rehabilitation lining technology allows for in place (in-situ) repair of aging pipe infrastructure without undertaking the expensive process of digging up hundreds-of- thousands of miles of buried pipe. Industry terminology refers to this process as Spray In Place Pipe (SIPP) or Cured In Place Pipe (CIPP). Specialty Products high modulus, seamless, polyurea liners will substantially increase the pipe's expected service life by 50+ years. SPI offers SIPP / CIPP protective/structural lining solutions that are successfully tested and compliant with national NSF – ANSI 61 potable water standards. In addition, SPI manufactures chemical resistant, industrial coatings used to protect wastewater, oil and gas, and mining infrastructure. These rigorously tested coatings provide the strongest chemical resistance to wastewater, hydrogen sulfide gas, hydrocarbons, acids, and alcohols. Properly maintaining drinking water infrastructure and containing wastewater/chemicals play an important role in helping to protect public health and the environment. SPI takes pride in being able to offer reliable and economical solutions that effectively solve both issues.
Graco Reactor 2 – The Most Technologically Advanced Proportioner Ever Built
Last month Graco introduced the Reactor 2 plural component sprayer. SPI will showcase a Reactor 2 unit at the 2014 PDA annual conference. The Graco Reactor 2 features advanced software and hardware that help contractors' process polyurea and polyurethane foam materials with greater accuracy, and a space saving design for mobile spray rigs.
Graco's advanced motor control module and software system provides a smoother, more consistent spray performance. The Advanced Display Module (ADM) allows contractors to monitor/save project information to confirm the job was sprayed to specification. Graco's ADM features on-screen troubleshooting, material drum level indicators, USB data download, and stores up to 24 different chemical recipes. In addition, Graco InSite remote reporting technology allows business owners/managers to view real-time jobsite data and spray rig GPS location with a computer, tablet or smart phone. Graco InSite can collect data from various connected project sites and email a daily report.
Chas Weatherford, VP of SPI said, "Industry contractors and manufacturers have a keen understanding that materials must be processed at the proper heat, pressure, and fluid ratio to ensure the installed product meets the specification. Graco's Reactor 2 equipment series and InSite technology has now made this critical process a lot easier to manage." Contact SPI for a free Graco Reactor 2 equipment spray demonstration at one of SPI convenient regional locations (Texas, Chicago, Washington State, and Alaska).
40 Years of Innovation and Growth in the Polymer Coating Industry
Specialty Products, Inc. is celebrating its 40th anniversary in 2014. Since 1974, SPI has continued to raise the polyurea and polyurethane foam industry bar with innovative, purpose engineered solutions designed to withstand the most demanding industrial, commercial and residential applications. Some of these applications include: hydrocarbon, acid, and alcohol resistant primary and secondary containment liners; blast mitigation and energy absorbing barrier coatings; extreme abrasion wear and tear protection; NSF / ANSI 61 compliant potable water liners; FDA 21 CFR compliant direct food contact; one-step spray on concrete resurfacing and waterproofing; corrosion control, flexible waterproofing membranes, spray foam insulation, and pour foam systems for slab jacking, void fill, tooling, molds and flotation.
SPI is a privately-owned company, with operations in Lakewood Washington State, Rowlett Texas, Chicago Illinois, and Anchorage Alaska. Specialty Products offers advanced, hands-on applicator training classes taught by a NACE certified instructor and coatings inspector. SPI clients receive the industry's best 24/7 tech-support from a technical staff with over 250 years of combined industry experience. Additional information about SPI is available at http://www.specialty-products.com
To learn more about SPI's advanced polyurea protective coatings, please contact:
Specialty Products, Inc. (SPI)
Cliff Haskins
VP of Marketing
2410 - 104th St. Ct. S., Suite D
Lakewood, WA 98499
(800) 627-0773
(253) 588-7101