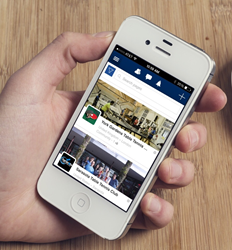 Our App is designed as a tool to connect players, coaches, clubs and fans of the sport around the globe.
Bradenton, Florida (PRWEB) June 16, 2015
PongUniverse.com, a Florida based social community website released today its free smartphone mobile application for IOS and Android devices. This first of its kind App serves as a tool to better connect different groups within the table tennis world.
Users can meet new people and share their passion for the sport while staying updated with current happenings across the globe. A new and innovative 'Event Page' allows viewers to experience events like never before: with a few clicks, attendees can share their experience by adding photos, videos or comments to an interactive activity feed.
Offering a clean and user-friendly interface, the app includes several features designed to bridge the communication gap between players, coaches, clubs and fans within the international table tennis community. In addition, users can also share content from PongUniverse with friends on other social Apps installed on their mobile devices.
The PongUniverse App allows members to:

Introduce themselves to the community via personal profiles
Add Club, Fan or Business Pages
Share events, photos, videos or blogs
Search and find tournaments, events or places to play
Buy, trade or sell table tennis equipment (in up to 50 different currencies)
"Our mobile App is the next step in the evolution of the sport's rapid global growth."
said Andrew Williams, Founder and CEO of PongUniverse LLC. "With mobile apps increasingly becoming the norm in our everyday lives, we are excited to be the first to provide table tennis lovers around the world with a product which will add value to our sport."
PongUniverse.com first started as an invitation-only community in September 2013 and quickly grew amongst local players and clubs. As of July 2014 new features were added and membership was opened to enthusiasts around the world. Today PongUniverse continues to grow and find innovative ways to help increase awareness of table tennis worldwide. The PongUniverse App is now available in the Google Play or Apple stores stores.