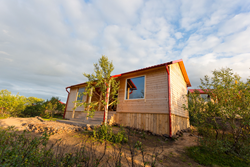 One of the finest fishing destinations on the planet just got a lot finer.
Gibsonia, PA (PRWEB) January 31, 2015
Over the past decade, the Ponoi River on Russia's Kola Peninsula has evolved from a relatively unknown and remote waterway to being recognized as one of the greatest Atlantic salmon rivers in the world. The 2014 season was one of the most productive ever with 8,850+ Atlantic salmon caught and released. Frontiers International Travel is pleased to announce that the Ryabaga Camp on the Ponoi has upgraded its well-equipped tent camp with a collection of comfortable single-occupancy cabins for the 2015 season. This exclusive fishing adventure just became even more deluxe. Contact Frontiers at 1-800-245-1950 to learn more about the Ponoi River and Ryabaga Camp or visit http://www.frontierstravel.com/ponoiriver.
"Anglers will appreciate hand-crafted queen-size beds with comfortable mattresses, duvet and over-sized Finnish down pillows," said Frontiers Co-Owner Mollie Fitzgerald. "The cabins include raised platform decks, en-suite bathrooms, and superb views. They are equipped with Wi-Fi and the generator runs 24/7."
Located above the Arctic Circle, the Ponoi flows west to east for 400 kilometers before entering the Barents Sea. The watershed runs pristine through largely uninhabited wilderness and is accessible only by helicopter. There is no mining, deforestation, dams, netting, poaching or other encroachment by man, thus the enormous runs of salmon return in much the same numbers they have for thousands of years.
Guests experience eight hours of guided fishing daily and the river affords the opportunity for wading, bank casting, or boat fishing. Most angling is done with floating line, and depending on personal preference, both single and double-handed rods are used with a cross-section of traditional Atlantic salmon fly patterns. Consistent across a long season (late May through early October), the Ponoi sees massive and improving runs of aggressive, free-taking fish.
"One of the finest fishing destinations on the planet just got a lot finer with the introduction of the cabins," said Ms. Fitzgerald. "We couldn't be more excited for our clients."
About Frontiers International Travel:
Founded in 1969, Frontiers caters to discriminating travelers and specializes in the finest worldwide fly fishing and shooting destinations, photographic safaris, as well as customized Elegant Journeys. The combined staff of 54 travel experts in our Gibsonia, Pennsylvania headquarters and the United Kingdom branch office is considered the source for sound, unbiased advice in outdoor and luxury travel realms based on our well-seasoned, firsthand perspective. For more information, call 800-245-1950 or visit http://www.frontierstravel.com.