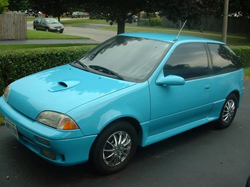 We've added support for all GM partner blocks from Suzuki and Isuzu this year to our smaller motors inventory to offer more choices to the public
Cleveland, OH (PRWEB) May 07, 2015
The Canadian production of the Firefly vehicle helped introduce a rebadged version of the Suzuki Cultus to consumers from 1989 to 1994. The PreownedEngines.com company is now discounting every web order this year for Pontiac Firefly 1.3-liter used engines that are available for sale at http://preownedengines.com/pontiac-firefly-1-3l-engine.
The 3-cylinder blocks that are now available to buy at a lowered price are the OEM G10 blocks first built by Suzuki. Both the carburetor and fuel injection versions are now available to order for the remainder of 2015. Consumers who take advantage of this available inventory will receive the promoted sale prices during the checkout process.
"We've added support for all GM partner blocks from Suzuki and Isuzu this year to our smaller motors inventory to offer more choices to the public," said one Preowned Engines company source.
One advantage for purchasers of the used Pontiac engines that are now lowered in price is the compatibility with several different vehicle nameplates. The Geo Metro, Chevy Sprint and Firefly each use a variation of the G10 1.3-liter motor. People who are concerned with errors during installation will not have issues when swapping out the 3-cylinder versions.
"To go with the reduced selling price, we've also introduced a better warranty program that can be activated during the order checkout process on our website," said the source.
The Preowned Engines website is now being updated through a digitized system that is linked to all supplier inventories in the company network. Stock levels are now showcased with a higher level of accuracy to simplify the exploration, review and final ordering procedures for the public.
About PreownedEngines.com
The PreownedEngines.com company is now retailing many of the popular automaker brands of vehicle components on its website. The company specialists in domestic, import and Canadian built vehicle motors. The PreownedEngines.com company has secured brand new supplier contracts for this year that make it possible to retail junk yard inventories across the United States.