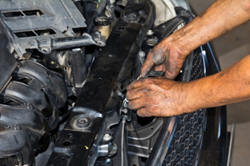 The Pontiac brand as well as other GM subsidiaries are now available to explore through our revised car parts inventory
Detroit, MI (PRWEB) May 17, 2015
A new inventory of vintage motors used inside of General Motors vehicles can now be purchased through the PreownedEngines.com company. The coupe and hatchback car parts inventory now includes Pontiac Phoenix 2.5L engines that are available in the GM inventory viewable at http://preownedengines.com/pontiac-phoenix-2-5l-engine.
The preowned inventory that is now in stock for Phoenix vehicles includes the 1980 to 1984 I4 motors. These units are the same editions that were available with the Chevrolet Citation. Auto body mechanics or car owners who will buy this inventory will have complete compatibility with the 3-speed and 4-speed gearboxes that are used with the 2.5-liter engines.
"The Pontiac brand as well as other GM subsidiaries are now available to explore through our revised car parts inventory," said one Preowned Engines company expert.
The 4-cylinder front-wheel drive used motors that are now promoted for retail sale at the POE website are protected under the modified OEM warranty program currently in place. People who place orders between the current date and the remainder of this year will receive long-term warranties at zero cost.
"The 2.5L and the 2.8L block used in Pontiac cars is covered with our special warranty plan as an incentive for purchasers in the USA," said the expert.
The Preowned Engines company is planning to improve its 6-cylinder builds from both Ford and General Motors later this year. New acquisition efforts are now making it possible to focus on an older car parts inventory compared to what some web retailers promote to consumers nationally.
About PreownedEngines.com
The PreownedEngines.com company is now retailing more classic vehicle motor builds for consumers in the U.S. The company recently added GM, Ford and Chrysler brands to its vintage inventory posted on the web. The PreownedEngines.com company has enabled an e-commerce system to allow ordering or price checks to be completed through its website this year.