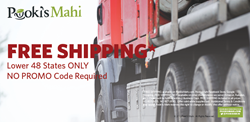 There were three big pain points for Pooki's Mahi customers: cost of shipping (added fees at checkout), shipping time, and receiving ordered products damaged. Operations excellence is a core competencies Les Magsalay-Zeller built into Pooki's Mahi.
San Francisco, CA (PRWEB) December 16, 2013
Pooki's Mahi, ecommerce retailer of award-winning teas, 100% Hawaiian coffees, rock sugars, and macadamia nuts announced today it was selected as one of several featured merchants for FreeShippingDay.com.
Not every ecommerce retailer in the Food & Beverage industry can afford to provide zero shipping cost to its customers. The margins are too low and offering it is prohibitive. Pooki's Mahi is extending zero cost shipping to the Lower 48 states to FreeShippingDay.com customers.
Free Shipping Day is a one-day, online-shopping event when thousands of merchants offer zero cost shipping with delivery by Christmas Eve. Now in its sixth year, this holiday is on Wednesday, December 18th, near the tail end of shopping season.
There are few events that drive sales during the peak holiday season from November through December: Black Friday, Cyber Monday and now Free Shipping Day.
This new holiday event known for giving customers another shopping day without adding an additional fee for shipping during the checkout pocess. Customers can purchase bargain deals or affordable items in a timely manner on a platform that is easy to checkout. Statistics from leading research firm's show 90% of consumers spend more when offered free delivery, while nearly half will abandon a shopping cart if met with high fees.
"There were three big pain points for Pooki's Mahi customers: cost of shipping (added fees at checkout), shipping time, and receiving ordered products damaged. Customers who are from the East Coast and have travelled to Hawaii are shocked when they pay up to $35.00 to ship Hawaiian products. For example it'll cost the customer about $5.99 for tropical teas and $26.50 to ship from Hawaii to New York. The shipping costs are about 4x more than the product. This is not any different for products shipping from California to the East Coast, " said Les Magsalay-Zeller, Founder/CEO, Pooki's Mahi
Pooki's Mahi is happy to be added as a merchant to FreeShippingDay.com. It will help drive awareness for Pooki's Mahi brand as well as bring gourmet food products to a new customers.

The zero cost holiday beat Black Friday's online spending 2 years in a row by over $250 million.
Customers from the new channel now have the added convenience of shopping for Pooki's Mahi's award-winning teas, Royal Kona's 100% Kona, LION's international blend of coffees or Hamakua's 100% Hawaiian grown macadamia nuts without paying for ground shipping or high rates for expedited shipping. Pooki's Mahi included shipping as part of the product costs. Pooki's Mahi customers are very pleased that there isn't another fee added at checkout and have been very happy with the two-three day deliveries.
Pooki's Mahi CEO Les Magsalay-Zeller, Pooki's Mahi's product teams and the Customer Advisory Board work hard to source suppliers that consistently produce award-winning products for long-term partnerships. As an expert in New Product Introduction (NPI) Les Magsalay-Zeller brokered partnerships with two world-class fulfillment companies with a strong operations focus: Webgistix and Amazon. Between the two partners, Pooki's Mahi operations can beat or meet the 2-day shipping transit time for West Coast and Midwest customers and 4-5 days for East Coast customers.
"Customers like myself are always looking for a deal without feeling we're being bilked for shipping; we cannot afford it," said several Pooki's Mahi customers and Customer Advisory Board Members. "It's exciting to see Les Magsalay-Zeller work hard to ensure her company, Pooki's Mahi, brings high quality, award-winning food products right to your door at reasonable prices. Having a world-class operations HQ is one of the core competencies Les built into Pooki's Mahi. After all Les Magsalay-Zeller is an operations excellence and New Product Introduction executive. We would not expect anything less."
Silicon Valley start-up Pooki's Mahi is notorious for vetting channel partners extensively before considering adding them. This ensures channel partners provide added value to a growing customer base. Pooki's Mahi's customers have come to expect high quality products at affordable prices. Pooki's Mahi is always looking to add opportunities for savings. Pooki's Mahi has a competitive advantage by offering shipping at no additional cost to its customers for low margin food, beverage, and snack products.
About Pooki's Mahi:
Pooki's Mahi is an ecommerce store bringing exotic Hawaiian coffees, award-winning teas, sweeteners, gourmet salts and macadamia nuts to you at reasonable prices. Pooki's Mahi products has been featured at Red Carpet events in the entertainment industry and will be in several TV shows. Pooki's Mahi started with exotic coffees rated 95+ by Coffee Review from the world's champion roasters and baristas and teas rated 90+ points by World Tea Ratings from the world's champion brew masters. Today, that includes an assortment of macadamia nut products, drink sweeteners like brown rock sugar, and various gourmet salts. Silicon Valley High Tech Executive Leslie Magsalay-Zeller is the Founder/CEO of Pooki's Mahi. We hope that you take the opportunity to sample more of our products at PookisMahi.com and enjoy the results of our experiences. Our products are produced by the finest world champion roasters, baristas and brew masters, noted by Coffee Review and World Tea Ratings. Follow our expanding offerings in macadamias, drink sweeteners and foods on PookisMahi.com, special offer updates on Twitter @pookismahi and on Facebook Like us.
###