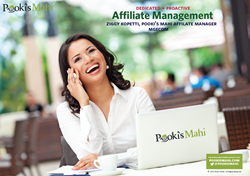 One of Pooki's Mahi's top priorities in 2014 is to expand the affiliate channel and increase brand awareness. Ziggy Kopetti has done a fantastic job building the existing base of several hundred affiliates including 15+ top Platinum performers.
San Francisco, CA (PRWEB) January 09, 2014
Silicon Valley etailer startup of award-winning teas, Pooki's Mahi announced today Ziggy Kopetti, Affiliate Executive and Manager will attend the sold out Affiliate Summit West 2014 conference. The conference will be held at the Paris Hotel in Las Vegas, Nevada. The goal is to recruit top tier affiliates and network with industry heavy weights.
The primary purpose is to meet with a lot of the affiliate marketers already on Rakuten's LinkShare platform and to network with Rakuten LinkShare's top Platinum affiliates. Pooki's Mahi is an MGECOM client; Ziggy Kopetti is one of MGECOM's Affiliate Managers. Hand outs listing MGECOM clients and their program basics. Interested companies wishing to join will receive a Pooki's Mahi Affiliate Trifold highlighting the brand, product wins and benefits to joining the affiliate program. Existing affiliates will be able to hear more about Pooki's Mahi's upcoming new products launching such as teas, sweeteners and single serve tea, Kona coffee pods.
Pooki's Mahi is growing the existing affiliate base. In the first six weeks several hundred affiliates including 15+ Platinum top affiliates within Rakuten LinkShare joined Pooki's Mahi's Affiliate Program. Pooki's Mahi's Affiliate Lead will continue to recruit top tier affiliates during the conference.
Pooki's Mahi's Affiliate Trifold will include celebrity endorsements, product awards and photos with Pooki's Mahi's Founder/CEO, Les O. Magsalay-Zeller. Pooki's Mahi is an ecommerce store brining award-winning teas, exotic Hawaiian coffees, top-notch sweeteners, gourmet salts and macadamia nuts to customers, all with free shipping at reasonable prices. Since the official launch in 2013 with a new ecommerce site Pooki's Mahi's products have been featured at red carpet events such as the Celebrity Gift Suites, endorsed by celebrities and athletes and in several TV shows; the latest, "Boys Before Friends," airs on Viki.com on Thursdays. Pooki's Mahi's products continue to delight customers. The latest are brown rock sugars that earned the #2 and #7 spots in Amazon's Most Gifted Products and #3 in the Brown Sugar category. Amazon's ratings are based on sales, product requests and customer feedback.
"One of the top goals in 2014 for Pooki's Mahi is to significantly expand the three key sales channels: affiliate, marketplaces and wholesale/bulk. Pooki's Mahi's products performed well on the top marketplaces such as Amazon," says Founder/CEO Les O. Magsalay-Zeller. She excitedly adds, "Ziggy has done a fantastic job building the existing base that includes 15+ top Platinum Affiliates. We're excited for Ziggy's proactive outreach and have armed her with the tools to recruit affiliates and expand the brand."
About Affiliate Summit West 2014 Conference
Affiliate Summit West 2014 is taking place January 12-14, 2014 at Paris Las Vegas. This sold out three day conference includes an exhibit hall with affiliates, merchants, vendors, and networks, as well as multiple tracks of education sessions covering the latest trends and information from affiliate marketing experts. eBay Enterprise's VP of Marketing Solutions, Steve Denton and Greatist's Founder/CEO, Derek Flanzraich are the keynote speakers for Affiliate Summit West 2014.
About Ziggy Kopetti, Account Executive & Affiliate Manager
Ziggy has worked in the world of online marketing since 1999. She has worked directly for companies - managing both offline and online marketing campaigns and has spent a considerable amount of time managing clients online marketing efforts such as mobile, web, design, media campaigns, and video from the agency side. Ziggy worked directly for the Commission Junction affiliate network from 2004 - 2007 managing both advertiser programs and top-performing affiliates. She joined MGECOMback in February. She has a son, bulldog, cat, and a husband and they all reside in beautiful Portland, Oregon.
About MGECOM:
Founded in 2006 by industry veteran Matt Enders, MGECOM is the leading provider of outsourced affiliate program management services. True specialists in this niche online market, MGECOM is one of the only successful agencies in existence to offer only affiliate program management services without branching out into other types of online marketing management. MGECOM has been in business since early 2006, boasts an average Year-Over-Year growth rate of 300%+ for our client programs, and has created a team of industry leaders whose cumulative experience in the affiliate industry exceeds 110 years.
About Pooki's Mahi:
Pooki's Mahi is an ecommerce store bringing exotic Hawaiian coffees, award-winning teas, sweeteners, gourmet salts and macadamia nuts to you at reasonable prices. Pooki's Mahi products has been featured at Red Carpet events in the entertainment industry and will be in several TV shows. Pooki's Mahi started with exotic coffees rated 95+ by Coffee Review from the world's champion roasters and baristas and teas rated 90+ points by World Tea Ratings from the world's champion brew masters. Today, that includes an assortment of macadamia nut products, drink sweeteners like brown rock sugar, and various gourmet salts. Silicon Valley High Tech Executive Leslie Magsalay-Zeller is the Founder/CEO of Pooki's Mahi. We hope that you take the opportunity to sample more of our products at PookisMahi.com and enjoy the results of our experiences. Our products are produced by the finest world champion roasters, baristas and brew masters, noted by Coffee Review and World Tea Ratings. Follow our expanding offerings in macadamias, drink sweeteners and foods on PookisMahi.com, special offer updates on Twitter @pookismahi and on Facebook Like us.
Contact Information
Public Relations & Media
Pooki's Mahi
http://pookismahi.com
Email: pr(at)pookismahi(dot)com