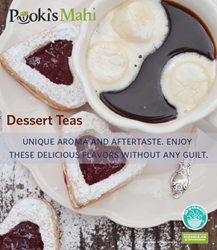 I love the Pear-adise Power tea and have ordered it for the fifth time. It comes in a re-usable green standup pouch. It is fresh, full-bodied and very nice tasting. The aroma is not overpowering. The taste reflects the aroma.
San Francisco, CA (PRWEB) January 31, 2014
Leading gourmet etailer of award-winning teas, brown rock sugar and 100% Hawaiian coffees Pooki's Mahi today announced the launch of its Dessert Tea Collection featuring four new, exquisite loose-leaf tea flavor fusions.
Inspired by customer feedback on taste, aroma, and pricing, the teas in the Dessert Fusions Collection all feature unique and unexpected flavor combinations, rich aroma and remarkable after taste. Pooki's Mahi spent several months gathering feedback from existing customers and a Customer Advisory Board before launching a pilot of the collection late last year.
"This collection was initially a bit intimidating for me on account of the ingredients list. But the included flavor profiles for the teas removed some of the mystery and the verdict is: they are wonderful! I have enjoyed the Pear-adise Power and Spicy Cocoa Blast and have re-ordered Pear-adise Power five times now. The pear tea is fresh and full-bodied with a taste that truly reflects the aroma," said Kelly K., a repeat Pooki's Mahi customer who sampled several teas in the dessert collection during its pilot. "In the Spicy Cocoa Blast, you'll taste cinnamon, cocoa, chocolate, some spice and vanilla. It isn't spicy—just packed with lovely, complex flavors."
The Dessert Tea Fusions Collection includes:
1. Banana Cocoa Blossom: flavors of rich chocolate ripened bananas and silky pink peppercorns blend smoothly as if it was a milkshake.
2. Pear-adise Power: a fresh baked pear, soaked with caramel delightfully drips honey in one delectable desert concoction.
3. Spicy Cocoa Blast: a fusion of chocolate drenched in cinnamon, and spicy chili flakes. Safflowers, honey bush and a slight hint of crème add to the self-indulgence.
4. Vanilla Truffle Bliss: a blend of fruity black currants, white chocolate, fresh crème, tangy fruit and vanilla that satisfies even the strongest sweet tooth.
Improved packaging is another highlight of the Dessert Tea Collection. Teas now come in convenient standup pouches that include brewing instructions for each specific tea, caffeine level, number of cups served and ingredient list. The new packaging also uses icons to make it easy for customers to locate key information and make better buying choices.
The Pooki's Mahi Dessert Tea Collection is available online now and can soon be purchased both through the tea subscription program and as part of the company's Customer Referral Program, which offers rewards and discounts for new customer referrals.
Since its online launch in 2013, Pooki's Mahi products have been a favorite of customers, celebrities and athletes and have been featured at red carpet events including Celebrity Gift Suites, endorsed by celebrities and athletes and seen on several television shows. Most recently, Pooki's Mahi products can be viewed on the show 'Boys Before Friends,' which airs on Viki.com each Thursday.
For more information on Pooki Mahi's selection of exotic coffees, teas and other gourmet food products, visit http://www.pookismahi.com. Also, follow our expanding offerings in macadamias, drink sweeteners and foods, plus access special offers by joining us on Facebook and Twitter @pookismahi.
Contact Information
Pooki's Mahi
pr(at)pookismahi(dot)com
About Pooki's Mahi:
Pooki's Mahi is an ecommerce store bringing exotic Hawaiian coffees, award-winning teas, sweeteners, gourmet salts and macadamia nuts to you at reasonable prices. Pooki's Mahi products has been featured at Red Carpet events in the entertainment industry and will be in several TV shows. Pooki's Mahi started with exotic coffees rated 95+ by Coffee Review from the world's champion roasters and baristas and teas rated 90+ points by World Tea Ratings from the world's champion brew masters. Today, that includes an assortment of macadamia nut products, drink sweeteners like brown rock sugar, and various gourmet salts. Silicon Valley High Tech Executive Leslie Magsalay-Zeller is the Founder/CEO of Pooki's Mahi. We hope that you take the opportunity to sample more of our products at PookisMahi.com and enjoy the results of our experiences. Our products are produced by the finest world champion roasters, baristas and brew masters, noted by Coffee Review and World Tea Ratings.