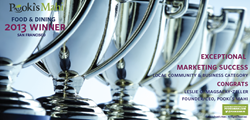 I'm very honored to receive the 2013 Food & Dining (San Francisco) award and proud that Silicon Valley recognizes my new venture using my NPI, PLM and operations excellence expertise from high tech to launch low-tech products. Thanks to my exec advisors.
San Francisco, CA (PRWEB) February 21, 2014
Etailer startup of award-winning teas top-notch brown rock sugar and 100% Hawaiian coffees Pooki's Mahi announced today it has been selected for the 2013 San Francisco Award in the Food & Dining category by the San Francisco Award Program.
Every year the San Francisco Award Program honors achievement and accomplishments of local businesses throughout the San Francisco area. Pooki's Mahi was recognized for having shown the ability to use best practices in New Product Introduction to consistently launch products to market. Pooki's Mahi comprehensive marketing efforts included three key customer programs, integrating social media with email marketing, press and media. The overall launch plan drove market communications, community outreach and industry events to expand the brand.
"I'm very honored to receive the 2013 Food & Dining (San Francisco) award and proud that Silicon Valley recognizes my new venture using my NPI, PLM and operations excellence expertise from high tech to launch low-tech products. Thanks to my executive advisors, product and supply chain partners for their continued support," gushed Leslie Magsalay-Zeller, Founder/CEO of Pooki's Mahi. She enthusiastically continues, "I've founded Pooki's Mahi to bring hard to find, highly valued, and award-winning products to customers at an affordable price, quickly and efficiently. We ideate and innovate with our product partners, suppliers by using key customer insights to drive decisions. Our NPI expertise from the high tech industry influences new product launches as well as End-Of-Life of existing ones. As experts at bringing new products to market, our product lines are always expanding."
Pooki's Mahi's exceptional market success resulted from a well-orchestrated NPI and Go-To-Market Launch strategy. It generates competitive advantages and long-term value.
Pooki's Mahi's Founder/CEO, Leslie O. Magsalay-Zeller started her career in high technology. Les has successfully led multiple products and business launches for Fortune 500 companies and played key roles in exiting startups. Her expertise in New Product Introductions, a framework for consistently introducing products to market using a Product Life Cycle Management process are key to Pooki's Mahi's rise to success. This is evident in Pooki's Mahi's key wins.
Pooki's Mahi's Key Wins in 2013:
1. Revenues grew 12X
2. Product inventory turns increased 25X
3. The number of orders processed increased by 40X
4. Order Defect Rate (ODR) of .01% beat a marketplace target of <1%
5. On Time Delivery (OTD) of 99.5% beats a marketplace target of 95%
6. Pre-Fulfillment Cancel Rate (PFCR) of 0.00% beats the goal of < 2.5%
7. Late Shipment Rate of 0.00% exceeds the marketplace goal of <4%
8. Post Ship Confirm Refund Rate (RR) of .01% exceeds the target of 2.5%
Pooki's Mahi is built on three core expertise: New Product Introductions (NPI), Operations Excellence (OpEx), and Product Life Cycle Management (PLM). The 2013 key wins would not be possible with significant investments in operations, technology, products, and supply chain ecosystem. Pooki's Mahi Go-To-Market strategies support the core principles.
"The top goals in 2014 for Pooki's Mahi is to significantly expand the three key sales channels: customer programs, wholesale/bulk and marketplaces. Pooki's Mahi's products performed well in our customer programs and in top marketplaces," says Les Magsalay-Zeller. She announces, "We're officially launching the wholesale/bulk business in Q1 and Pooki's Mahi's new pyramid sachets in Q2. We have pre-orders for both. Our success wouldn't have been possible without the continued support and execution against a comprehensive Go-To-Market strategy."
Since its online launch in 2013, Pooki's Mahi's products have been a favorite of customers, charities, celebrities and athletes and have been featured at red carpet events including Celebrity Gift Suites, endorsed by celebrities and athletes and seen on several television shows. Most recently Pooki's Mahi products can be viewed on the show 'Boys Before Friends," which airs on Viki.com each Thursday.
For more information on Pooki's Mahi selection of exotic coffees, teas and other gourmet food products, visit http://www.pookismahi.com. Also, follow our expanding offerings in macadamias; drink sweeteners and foods, plus access special offers by joining us on Facebook, customer email list and Twitter @pookismahi.com.
About Pooki's Mahi:
Pooki's Mahi is an ecommerce store bringing exotic Hawaiian coffees, award-winning teas, sweeteners, gourmet salts and macadamia nuts to you at reasonable prices. Pooki's Mahi products has been featured at Red Carpet events in the entertainment industry and will be in several TV shows. Pooki's Mahi started with exotic coffees rated 95+ by Coffee Review from the world's champion roasters and baristas and teas rated 90+ points by World Tea Ratings from the world's champion brew masters. Today, that includes an assortment of macadamia nut products, drink sweeteners like brown rock sugar, and various gourmet salts. Silicon Valley High Tech Executive Leslie Magsalay-Zeller is the Founder/CEO of Pooki's Mahi. We hope that you take the opportunity to sample more of our products at PookisMahi.com and enjoy the results of our experiences. Our products are produced by the finest world champion roasters, baristas and brew masters, noted by Coffee Review and World Tea Ratings.
Contact Information
Pooki's Mahi
Pr(at)pookismahi(dot)com