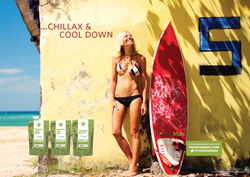 I love the taste of Tropical Pomiberry pyramid tea. Les Magaslay-Zeller, CEO of Pooki's Mahi hit a home run with the packaging. The pyramid teabags are biodegradable and can be used as a fertilizer. Can't wait to see the next phase of Pooki's Mahi.
San Francisco, CA (PRWEB) June 05, 2014
San Francisco's 2013 Food & Beverage winner Pooki's Mahi announced today the launch of Pooki's Mahi's Pyramid Tea Collection featuring over 20 award-winning, high quality loose leaf teas available in pyramid infuser form. The teas fulfill customers' request to conveniently brew and appreciate rare, tropical teas while on the go.
"I love the taste of Tropical Pomiberry (Green Pomegranate) Pyramid Tea," said former Los Angeles Dodgers First Baseman, Steve Garvey. "Les Magaslay-Zeller, Founder and CEO of Pooki's Mahi, clearly spent some time creating something special with the packaging, and really took the concept of 'being green' to the next level."
"The pyramid teabags are biodegradable and can even be used as a fertilizer, which is impressive," Garvey continued. "This is the kind of innovative thinking that has earned Les her induction into the Business Hall of Fame. After Pooki's Mahi won the 2014 Food & Beverage title again this year, I can't wait to see what Les and the company will come up with next."
For over a year, customers provided Pooki's Mahi with valuable feedback on the new Pyramid Tea Collection. The award-winning online etailer then incorporated customer responses to perfect its tea fusions and blends before launching the pilot collection in early 2013, which consisted of nine pyramid teas packaged in an airtight, stainless steel tin.
Today, Pooki's Mahi's Pyramid Tea Collection features over 20 teas in six unique tea families, including Black Tea, Green Tea, Oolong Tea, Custom Fusions Tea, Select Botanicals and White Tea.
"One of Pooki's Mahi top product goals for 2014 was to have our teas available in single serve or ready to brew form," said Les Magsalay-Zeller, Founder and CEO of Pooki's Mahi. "Not all of Pooki's Mahi's customers have the patience to measure, strain and wait for loose leaf teas to brew. Our customers want Pooki's Mahi's loose leaf teas in a form that is easy to brew and serve without sacrificing quality, and so we made our loose leaf teas available in pyramid infuser form."
"Pooki's Mahi's pyramid teas collection was piloted with several etail business clients, hotels, spas, gourmet cooking institutes and celebrities," she continued. "I'm proud to announce that Pooki's Mahi Pyramid Tea Collection is nearly sold out, and our success wouldn't have been possible without the continued support from our product partners, as well as the execution against a comprehensive Go-To-Market strategy."
Pooki's Mahi's gourmet pyramid tea infusers make it easy to enjoy quality, artisan tea with convenience. The unique traditional and exotic tea blends are a hit among celebrities and customers alike. From Jasmine Pearl Dragon Pyramid Tea to Apple Cocoa Mint Pyramid Tea, lucky guests enjoyed Pooki's Mahi lush, refreshing flavors during Edible Institute 2014 in New York, NY this past May just as much as they did during author and fashion designer Lauren Conrad's recent birthday giveaway.
Compared to traditional muslin tea bags, which were designed to contain grinded tea (also known as "tea dust"), the triangular shape of Pooki's Mahi pyramid teas is portable and provides ample room for the generous expansion of the tea leaves. This gentle, yet plentiful unfolding of the tea leaves fully characterizes the delicate, yet complex character of an aromatic, flavorful cup of tea. With Pooki's Mahi pyramid teas, customers never have to drink mediocre "tea dust" ever again.
Pooki's Mahi's pyramid tea bags are handcrafted using food safe, recyclable silken fibers to form the iconic triangular shape without the use of chemicals or adhesives such as corn derivatives or GMOs. The small, net-like woven nylon strands of Pooki's Mahi pyramid tea sachets create holes in the bag that is much larger than the conventional muslin tea bags, allowing more water and essential oils to flow through the tea leaves for a luxurious, premium tea experience.
Pooki's Mahi works directly with master tea brewers and growers that share the online etailer's passion to produce traditional and tropical award-winning teas that are uniquely distinct from its industry peers. There are no compromises when it comes to quality.
Not all teas are brewed the same. Pooki's Mahi's suppliers improved the formula and packaging for the Pyramid Tea Collection. Each handy Pyramid Tea pouch is environmentally sustainable, containing 20 individually-wrapped teas with brewing instructions along with an ingredient list noting potential allergy warnings so that customers can easily make informed buying decisions.
Pooki's Mahi's new Pyramid Tea Collection is available online now and can be purchased as a tea subscription and as part of the company's Customer Referral Program, which offers rewards and discounts for new customer referrals. Free shipping is including in non-subscription purchases and subscription plans.
The Academy Awards ® is a registered trademark of the Academy of Motion Picture Arts and Sciences®. The Gift Suites where Pooki's Mahi's products are show cased are not authorized by and is not associated with the Academy of Motion Picture Arts and Sciences®, The Academy Awards®, or any of its official partners or vendors.
About Pooki's Mahi:
Pooki's Mahi is a Silicon Valley-based etailer offering exotic Hawaiian coffees, award-winning teas, sweeteners, gourmet salts, macadamia nuts and other specialty food products at reasonable prices. Since its online launch in 2013, Pooki's Mahi products have been a favorite of customers, charities, celebrities and athletes and have been featured at red carpet events including Celebrity Gift Suites and Celebrity Poker tournaments. The products have been endorsed by many celebrities and athletes and seen on several television shows. Most recently Pooki's Mahi products can be seen on the show "Boys Before Friends," which airs on Viki.com.
Pooki's Mahi, founded by Silicon Valley High Tech Executive Leslie Magsalay-Zeller, started with exotic coffees rated 95+ by Coffee Review from the world's champion roasters and baristas and teas rated 90+ points by World Tea Ratings from the world's champion brew masters. Today, their product offerings include a deluxe assortment of macadamia nut products; drink sweeteners like brown rock sugar, various gourmet salts and much more. For more information on Pooki's Mahi selection of exotic coffees, teas and other gourmet food products, visit http://www.pookismahi.com. To keep up with Pooki's Mahi news and access special offers, join our email list and follow us on Facebook and Twitter @pookismahi.