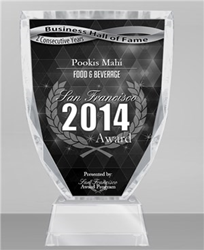 Pooki's Mahi would not be where it is today without partners leading the product areas in the supply chain ecosystem, fulfillment, and marketing. Thanks to Pooki's Mahi's executive advisors and partners for believing in me and keeping the teams focused.
San Francisco, CA (PRWEB) July 31, 2014
San Francisco Award Program announced today Pooki's Mahi is among a very small group of companies that have won the San Francisco Award for three consecutive years. This distinction qualifies Pooki's Mahi to be inducted into the San Francisco Business Hall of Fame. This is an elite group.
The San Francisco Award Program reviews nominees in and around the San Francisco area that achieved marketing success in their local community and business category and chooses only the best local businesses. Various sources of information were gathered and analyzed to choose the winners in each category. The San Francisco Award Program focuses on quality and not quantity. Pooki's Mahi won the 2013 and 2014 Food & Beverage Awards. Winners are determined on the information gathered both internally by the San Francisco Award Program and data provided by the third parties.
The award focuses on companies that have demonstrated the ability to use various marketing methods to grow their business in spite of difficult economic times. Pooki's Mahi was chosen because it exemplifies the best of small business often leading through customer service and community involvement. As an exceptional company, Pooki's Mahi helps the San Francisco Bay Area (and Silicon Valley) be a great place to live, work and play.
A Business Hall of Fame award is a result of Pooki's Mahi consistently exceeding metrics in business operations, supply chain management, operations excellence and customer service. Pooki's Mahi achieved this thanks to the dedication and efforts as well as the work of others in Les Magsalay-Zeller's organization to build a lean, focused and driven business.
The team is now part of the exclusive group of small businesses that have achieved as a Business Hall of Fame inductee.
"A few years ago I was presented an opportunity to work on Pooki's Mahi full time or continue working in a high tech corporation where my role's innovation and growth was close to non-existent. Chose Pooki's Mahi, my idea that started in early 2000s and incubated the self funded startup in 2011. We began with a simple idea: bring hard to find, highly valued, and award-winning products to customers at an affordable price, quickly and efficiently. Operated the start-up like a mini-Business Unit inside a high tech corporation with metrics driven goals, outsourcing entire functions to partners and held each functional area accountable. If a function or partner did not perform within a given time frame against the target metrics (like the Affiliate Channel), then pivot and divert investments into areas that are performing," says Leslie Magsalay-Zeller, Founder/CEO of Pooki's Mahi.
She continues, "All the lessons learnt leading massive launch teams in the high tech industry paid off. Pooki's Mahi's Advisory Board is broken into two levels: executives and subject matter experts. Executive Advisors are currently executives that guide the strategy, partnerships and long term planning. Subject Matter Experts (SMEs) focus on advising day-to-day operations. Pooki's Mahi would not be where it is today without solid partners leading the product areas in the supply chain ecosystem (100% Kona coffee products, award-winning tea, single serve cups/capsules), fulfillment, and marketing (product marketing, market communications, events, press and media).
"Kudos goes to Pooki's Mahi's executive advisors, subject matter experts and partners for believing in me and keeping the teams focused."
Key wins and highlights for Pooki's Mahi's Business Hall of Fame Award:

The Academy Awards ® is a registered trademark of the Academy of Motion Picture Arts and Sciences®. The Gift Suites where Pooki's Mahi's products are show cased are not authorized by and is not associated with the Academy of Motion Picture Arts and Sciences®, The Academy Awards®, or any of its official partners or vendors.
About San Francisco Award Program:
The San Francisco Award Program is an annual awards program honoring the achievements and accomplishments of local businesses throughout the San Francisco area. Recognition is given to those companies that have shown the ability to use their best practices and implemented programs to generate competitive advantages and long-term value.
The San Francisco Program was established to recognize the best of local businesses in our community. Our organization works exclusively with local business owners, trade groups, professional associations and other business advertising and marketing groups. Our mission is to recognize the small business community's contributions to the U.S. economy.
Source: San Francisco Award Program
About Pooki's Mahi:
Pooki's Mahi is a Silicon Valley-based etailer offering exotic 100% Kona coffees, award-winning teas, sweeteners, gourmet salts, macadamia nuts and other specialty food products at reasonable prices. Since its online launch in 2013, Pooki's Mahi products have been a favorite of customers, charities, celebrities and athletes and have been featured at red carpet events including Celebrity Gift Suites and Celebrity Poker tournaments. The products have been endorsed by many celebrities and athletes and seen on several television shows. Most recently Pooki's Mahi products can be seen on the show "Boys Before Friends," which airs on Viki.com.
Pooki's Mahi, founded by Silicon Valley High Tech Executive Leslie Magsalay-Zeller, started with exotic coffees rated 95+ by Coffee Review from the world's champion roastars and baristas and teas rated 90+ points by World Tea Ratings from the world's champion brew masters. Today, their product offerings include a deluxe assortment of macadamia nut products, drink sweeteners like brown rock sugar, various gourmet salts and mcuh more. For more information on Pooki's Mahi selection of exotic coffees, teas and other gourmet food products, visit http://www.pookismahi.com. To keep up with Pooki's Mahi news an access special offers, join our email list and follow us on Facebook and Twitter (@pookismahi).
Contact Information
Pooki's Mahi
Pr(at)pookismahi(dot)com