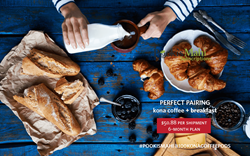 Customers expect high quality products. Pooki's Mahi's 100% Kona coffee single serves are manufactured to the highest quality standards. We address all customer complaints and feature requests because we want to maintain our high repeat customer base.
San Francisco, CA (PRWEB) March 27, 2016
Pooki's Mahi announced today it launched an improved a thinner pouch for its popular 100% Kona coffee pods products.
Pooki's Mahi spent over a year listening to customer feedback on overall packaging. Wrappers for the environmentally friendly 100% Kona coffee pods did not meet Pooki's Mahi's high standard of quality. Customers logged multiple improvements:
1. The wrapper was tough to tear open.
2. Customers wanted additional nutrition information in addition to the ingredients and steps to brewing already on the film.
3. Tear notches were missing from some of the wrappers.
Pooki's Mahi streamlined the approved supply chain partners. The film supplier consistently hits target lead times and meets the high quality standards. Customers have given the new ECO single serve cups very high ratings at several top online marketplaces.
"Our Customer Advisory Board (CAB) is made up of hand-picked advisors, our top 5% customers and approved supply chain partners. We listen to our CAB and implement improvements in our product lines and systems," explains Pooki's Mahi's CEO Leslie Magsalay-Zeller.
Les continues, "We've improved the film to a slightly thinner wrapper to make it easier for customers to open. Each wrapper already had the steps to brewing a single serve cup and ingredients. The new film will also have additional nutrition information. Customers have a right to know where their 100% Kona coffees are roasted, cup manufactured, ingredients and nutrition information," explains Pooki's Mahi's CEO Leslie Magsalay-Zeller
Customers will receive the new packaging in April/May. The price includes 24 individually wrapped single serves. Pooki's Mahi's 100% Kona coffee pods were roasted in machines that are not in contact with wheat/gluten, tree nuts, fish, shellfish, eggs, milk or soy. Shipping to the Lower 48 States is included. The new products are compatible with 1.0 and 2.0 single serve coffee makers.
Pooki's Mahi's CEO Leslie Magsalay-Zeller works hard to source suppliers that consistently produce award-winning products for long-term partnerships. As an expert in New Product Introduction (NPI) and Go-To-Market (GTM) launch Les brokered partnerships with world-class fulfillment companies with a strong operations focus.
The Silicon Valley startup plans to bring complimentary shipping to several global locations closer to Pooki's Mahi's wholesale and distribution customers.
For use in single serve coffee makers. Pooki's Mahi, The PMO Practice and Matcha Matcha Man are trademarks of Pooki's Mahi.
The Academy Awards ® is a registered trademark of the Academy of Motion Picture Arts and Sciences®. The Gift Suites where Pooki's Mahi's products are show cased are not authorized by and is not associated with the Academy of Motion Picture Arts and Sciences®, The Academy Awards®, or any of its official partners or vendors.
About Pooki's Mahi:
Pooki's Mahi is a Silicon Valley-based private label manufacturer offering award-winning 100% Kona coffee pods and other specialty food products at reasonable prices. Since its online launch in 2013, Pooki's Mahi products have been a favorite of customers, charities, celebrities and athletes and have been featured at red carpet events including Celebrity Gift Suites and Celebrity Poker tournaments. The products have been endorsed by many celebrities and athletes and seen on several television shows.
For more information on Pooki's Mahi selection of 100% Kona coffees, award-winning teas, wholesale or to participate in the private label pilot, visit http://www.pookismahi.com. To keep up with Pooki's Mahi news an access special offers, join our email list and follow us on Facebook and Twitter (@pookismahi). Pooki's Mahi has a zero tolerance stop cyber-bullying policy.
Contact Information
Pooki's Mahi
Support(at)pookismahi(dot)com