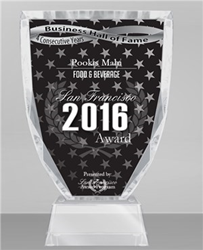 Pooki's Mahi would not be where it is today without partners leading the product areas in the supply chain ecosystem, operations, and marketing. Thanks to Pooki's Mahi's executive advisors and partners for believing in me and keeping the teams focused.
Silicon Valley, CA (PRWEB) March 29, 2016
Pooki's Mahi has been selected for the 2016 San Francisco Business Hall of Fame for the Food & Beverage Award category by the San Francisco Award Program.
Each year, the San Francisco Award Program identifies companies that they believe have achieved exceptional marketing success in their local community and business category. These are local companies that enhance the positive image of small business through service to their customers and community. These exceptional companies help make the San Francisco area a great place to live, work and play.
Various sources of information were gathered and analyzed to choose the winners in each category. The 2016 San Francisco Award Program focuses on quality, not quantity. Winners are determined based on the information gathered both internally by the San Francisco Award Program and data provided by third parties.
The Academy Awards® is a registered trademark of the Academy of Motion Picture Arts and Sciences®. The Gift Suites where Pooki's Mahi's products are show cased are not authorized by and is not associated with the Academy of Motion Picture Arts and Sciences®, The Academy Awards®, or any of its official partners or vendors.
About San Francisco Award Program:
The San Francisco Award Program is an annual awards program honoring the achievements and accomplishments of local businesses throughout the San Francisco area. Recognition is given to those companies that have shown the ability to use their best practices and implemented programs to generate competitive advantages and long-term value.
The San Francisco Program was established to recognize the best of local businesses in our community. Our organization works exclusively with local business owners, trade groups, professional associations and other business advertising and marketing groups. Our mission is to recognize the small business community's contributions to the U.S. economy.
SOURCE: San Francisco Award Program
About Pooki's Mahi:
Pooki's Mahi is a Silicon Valley-based private label manufacturer offering award-winning 100% Kona coffee pods and other specialty food products at reasonable prices. Since its online launch in 2013, Pooki's Mahi products have been a favorite of customers, charities, celebrities and athletes and have been featured at red carpet events including Celebrity Gift Suites and Celebrity Poker tournaments. The products have been endorsed by many celebrities and athletes and seen on several television shows.
Pooki's Mahi, founded by Silicon Valley High Tech Executive Leslie Magsalay-Zeller, started with exotic coffees rated 95+ by Coffee Review from the world's champion roastars and baristas and teas rated 90+ points by World Tea Ratings from the world's champion brew masters. Today, their product offerings include a deluxe assortment of macadamia nut products, drink sweeteners like brown rock sugar, various gourmet salts and mcuh more. For more information on Pooki's Mahi selection of exotic coffees, teas and other gourmet food products, visit http://www.pookismahi.com. To keep up with Pooki's Mahi news an access special offers, join our email list and follow us on Facebook and Twitter (@pookismahi).
Contact Information
Pooki's Mahi
Support(at)pookismahi(dot)com
###