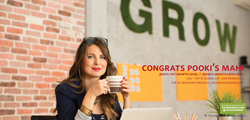 Our strong technical, operations and digital marketing backgrounds helped prune the list of vendors/suppliers. We built tools automating 95% of our core business. Not bad for a start up with $0 loans and $0 investment from the venture capital community.
San Francisco, CA (PRWEB) March 30, 2016
Pooki's Mahi, a Silicon Valley etailer startup delivering award-winning 100% Kona coffee Kcups® (Single Serves), today announced it achieved a 3000% increase in revenue from new customers and over 15000% increase over-all growth since 2012.
Pooki's Mahi sets new revenue records by revolutionizing supply chain management using Founder/CEO Leslie Magsalay-Zeller's product lifecycle management framework to introduce and launch new products. Pooki's Mahi welcomes new wholesale customers from Europe, Australia, Japan, Africa, Canada and US.
Pooki's Mahi achieves a #13 ranking representing San Francisco on a Top 100 Cities list driven by rapid adoption by customers; brand expansion in wholesale and branded channels.
"In January 2015 I was at a cross roads and given the directive to streamline Pooki's Mahi so the P&L will be successful by the time 100% Kona coffee single serves (K-cups®) launched and exceed our target revenue goals by December 2015. Measured every vendor and supplier against our score card to see if they consistently meet our high standards regardless if they were approved," says Pooki's Mahi's Founder/CEO Leslie Magsalay-Zeller.
Les explains, "We overhauled our entire operations and supply chain ecosystem. Outsourced valuable functional areas to vendors or suppliers who passed our lengthy RFI/RFP process. Pooki's Mahi's RFI/RFP process is invite only and geared to cut any potential vendor or supplier who isn't a cultural fit. Our strong technical, operations and digital marketing backgrounds helped prune the list of vendors and suppliers who failed to meet the target metrics. We built integrations and tools to automate 95% of Pooki's Mahi's core business."
"Pooki's Mahi would not be where it is today without solid partners leading the functional areas in the supply chain ecosystem to deliver our award-winning 100% Kona coffee k-cups® (Single Serves). Not bad for a start up that has $0 loans and $0 investment from the venture capital community. Kudos goes to Pooki's Mahi's executive advisors, subject matter experts and partners for believing in me and keeping the teams focused," chuckles Les Magsalay-Zeller
2015 Highlights

Closed 2015 with 3000% year over year revenue growth
Achieved over 15000% overall growth 2012-2015 – across four major product lines.
Inventory turn peaked at 17.4
Pooki's Mahi's 100% Kona Coffee K-cups®, Pooki's Mahi's 100% Kona Coffee Decaf K-cups®, and Pooki's Mahi's 100% Maui Mokka Coffee K-cups® topped several ecommerce product lists: Top Rated, Best New Product, Most Wished For, Coffees, Coffee Gifts
Earned San Francisco Bay Area Awards (April-December): Beverage, Food & Beverage, Coffee of the Year
Landed #13 representing San Francisco in the Top 100 Cities List
Converting <1% of 2.1M monthly visitors on PookisMahi.com
Achieved 300% YoY increase from repeat customers.
Standardized onboarding process for repeat customers (Wholesale 15% Program) and business customers reselling Pooki's Mahi's products.
Standardized overall Request For Information and Request For Proposal processes for all suppliers, vendors and manufacturing partners.
Achieved an average two-week lead-time from roast to cup manufacturing for repeat orders using just-in-time manufacturing capabilities.
Expanded leadership leads across marketing, and customer success.
Expanded platform and global infrastructure to support rapid growth.
Achieved 875K followers on Twitter, 239K likes on Facebook and 5K LinkedIn Company followers.
Pooki's Mahi began with a simple idea: bring hard to find, highly valued, and award-winning products to customers at an affordable price, quickly and efficiently. The startup operates similar to a mini-Business Unit inside a high tech corporation with metrics driven goals, outsourcing entire functions to partners and holding each functional area accountable. If a function or partner did not perform within a given time frame against the target metrics (like fulfillment, manufacturing or digital marketing), then pivot and divert investments into areas that are performing.
Pooki's Mahi's Advisory Board is broken into two levels: executives and subject matter experts. Executive Advisors are currently executives that guide the strategy, partnerships and long term planning. Subject Matter Experts (SMEs) focus on advising day-to-day operations.
Pooki's Mahi is a high tech company selling a low-tech product (100% Kona coffee Single Serves). Pooki's Mahi's products are sold online and can be purchased at several global marketplaces. New products are launched and available for purchase on Pooki's Mahi, Pooki's Mahi's Subscription store and select marketplaces like Overstock.
The Silicon Valley startup looks forward to further growth and innovation by delivering against the approved 2016 roadmap. New product introductions include 100% Kona coffee K-cups® for Keurig 2.0 brewers, whole leaf teas in single serve form, branded channel to over 40,000 distributors, Kosher certification and BRC manufacturing certification.
Pooki's Mahi's CEO Leslie Magsalay-Zeller works hard to source suppliers that consistently produce award-winning products for long-term partnerships. As an expert in New Product Introduction (NPI) and Go-To-Market (GTM) launch Les brokered partnerships with world-class companies with a strong operations focus.
For use in the Keurig® K-Cup® Brewing system. Pooki's Mahi is not affiliated with Keurig, Inc. Keurig® and K-Cup® are registered trademarks of Keurig, Inc.
The Academy Awards ® is a registered trademark of the Academy of Motion Picture Arts and Sciences®. The Gift Suites where Pooki's Mahi's products are show cased are not authorized by and is not associated with the Academy of Motion Picture Arts and Sciences®, The Academy Awards®, or any of its official partners or vendors.
About Pooki's Mahi:
Pooki's Mahi is a Silicon Valley-based etailer offering award-winning 100% Kona coffees k-cups® and other specialty food products at reasonable prices. Since its online launch in 2013, Pooki's Mahi products have been a favorite of customers, charities, celebrities and athletes and have been featured at red carpet events including Celebrity Gift Suites and Celebrity Poker tournaments. The products have been endorsed by many celebrities and athletes and seen on several television shows.
For more information on Pooki's Mahi selection of 100% Kona coffees, award-winning teas, wholesale or to participate in the private label pilot, visit http://www.pookismahi.com. To keep up with Pooki's Mahi news an access special offers, join our email list and follow us on Facebook and Twitter (@pookismahi). Pooki's Mahi has a zero tolerance stop cyber-bullying policy.
Contact Information
Pooki's Mahi
Support(at)pookismahi(dot)com