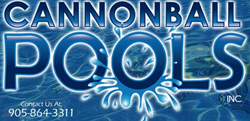 Cannonball Pools offers complimentary water testing to ensure the safety of salt water pools and to check for corrosion caused by the salt
Toronto, Canada (PRWEB) July 16, 2014
Cannonball Pools Inc. (http://www.CannonballPools.ca), Milton and the Greater Toronto Area's most trusted pool, spa, and aquatics services company, is announcing the importance of testing the water in saltwater pools to prevent corrosion.
"Salt pools have risen a lot in popularity over the last few years," says Jamie Perry, owner of Cannonball Pools Inc. "One of the main advantages of saltwater pools is that they maintain a continuous supply of chlorine flowing through the water through a process called electrolysis, which keeps the pool more clean than regular, chlorine-filled pools."
Perry explains it's important to remember that a saltwater pool by itself doesn't ensure disinfection; saltwater pools rely on chlorine to kill and neutralize germs and bacteria, just as regular pools do. With the salt in saltwater swimming pools already dissolved in the water, the process just becomes slightly different.
"There are benefits to saltwater pools, including comfort, not having to deal with the red eyes and itchiness caused by chlorine-filled pools, and lower maintenance," Perry adds. "The cost in the long run is also a benefit. Saltwater pools may cost more up-front, but the reduced cost in maintenance makes them a more cost-efficient investment."
"Cannonball Pools offers complimentary water testing to ensure the safety of salt water pools and to check for corrosion caused by the salt," Perry concludes. "A complimentary test of your pool is just one way of providing quality service for our customers."
Cannonball Pools Inc. is a locally owned and operated swimming pool, spa, and aquatics company dedicated to providing its clients the most knowledgeable, experienced staff and worry-free services. Together, owners Jamie Perry and Shane Bailey have been in the swimming pool service industry in Milton for over a combined 25 years. Over that time, residential and commercial customers have come to trust Cannonball Pools Inc. for its expertise and meticulous attention to detail with pool openings, pool cleanings, pool closings, maintenance (pool and spa filtration and water chemistry), pool covers, and pool liners. Cannonball Pools Inc. is also Milton's leading saltwater pool specialists. Big or small, Cannonball Pools Inc.'s highly trained and experienced aquatic technicians can meet all their clients' needs. To learn more about Cannonball Pools Inc., visit the company's web site at http://www.CannonballPools.ca or call 905-864-3311.