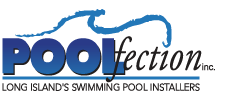 Poolfection Inc. Rank Safety & Damage Prevention as Top Priorities in Pool/Spa Closings.
Hauppauge, New York (PRWEB) January 30, 2014
September marks the beginning of a sad, yet frenzied process for homeowners across the nation, Long Island included. Preparing the home, inside and out, for the fall and winter to come, however, is inevitable. The closing and maintenance process is even more tedious for Long Islanders with pools and spas as they race the clock to get everything closed up for the harsh conditions Father Winter has in store. That is why Poolfection Inc, Long Island's premier pool specialist, is promoting its 360 degree maintenance and closing services, to help relieve the stress of getting the job done quickly, but more importantly correctly.
The tasks associated with pool closings on Long Island are not only nuisances, but many individuals fail to realize how critical they actually are. Blowing out the pipes, treating the filters, taking the appropriate measures to freezing and cracking within the system are just a few of the fundamental jobs Poolfection Inc.'s pool specialists will cover. They will clean the pool and/or spa, as well as add the chemicals necessary to prolong the water's clarity and maintain the optimal levels throughout the off-season months. The pool specialists and technicians at Poolfection Inc. know that cutting corners and being negligent, while closing a pool or spa can be utterly catastrophic. Therefore, they will guarantee a full inspection of each client's equipment, system, and liners, in addition to standard maintenance duties, allowing homeowners to rest easily during the cold months that lie ahead.
Poolfection Inc.'s team of specialists will complete the closing process by installing or putting the covers into place. As time consuming as it may be, Poolfection Inc. emphasizes that the single-most important part of closing a pool is putting the cover on. Although having its team of specialists come in to put the cover on is key to saving time, it is extremely important for safety reasons. Covers that are installed or put on incorrectly create the potential for life-threatening accidents to occur. The cover's original purpose was to prevent debris from getting into the pool, but nowadays, it is the ultimate safety feature. Because Poolfection Inc.'s number one priority is safety, they also sell and install the highest rated safety cover on the market – the Loop-Loc cover, which is allows water to seep through and still strong enough to hold an elephant, both of which prevents drowning.
Pool and spa closings can be frustrating and all too often, taken with a grain of salt. However, it is vitally important everything is done correctly, in order to prevent damage(s) and to ensure the highest level of safety. To avoid making a mistake or having regrets, hiring a professional pool company to close a pool or spa is highly recommended. Long Islanders can find the solution to their problems in the care of Poolfection Inc., which prides itself on making the closing process quick and easy, with safety being number one, for over 20 years.