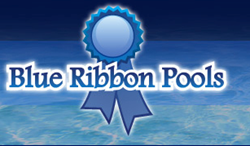 Pool Contractors on Long Island, Blue Ribbon Pools gives Pool Owners Maintenance & Cleaning Tips.
Commack, New York (PRWEB) November 22, 2013
Taking care of a swimming pool and keeping it sanitized and clean is every owner's responsibility. Keeping swimming pool clean and sparkling not only helps maintain the exquisite look of a backyard, it also helps prevent damage to the pool. Maintaining a pool takes effort and is time consuming; many home owners hesitate to have it in their yard. In reality, maintaining a pool is not such a hassle if pool owners just follow the basic steps.
Check the pool filter and pump regularly. Make sure they both are functioning optimally. Clean filter often. This is an important aspect of cleaning a pool, so check to make sure both are working properly.
Keep leaves, dirt, rocks and insects out of the pool. Use a long handled skimmer to take out leaves, bugs and other material from top and bottom of the pool.
Clean the pool regularly. Vacuum the bottom of the pool and make sure to put on the proper chemicals. Take a sample of the water to a local pool store and get it tested. They will recommend the proper chemicals.
A pool owner can cover the pool with a solar cover when it is not in use to keep out debris.
Blue Ribbon Pools is not only a pool installation company, they offer pool maintenance packages to take care of all these for pool owners.
Blue Ribbon Pools
169 Commack Rd
Bay Shore, N.Y. 11706
888-FIX-POOL
888-349-7665
http://www.longislandpoolsltd.com/long-island-liner-replacements.html