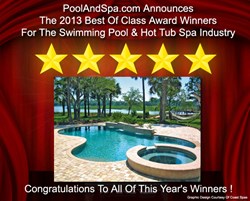 This years' Best Of Class Award Winners really showcase all the new technology and product innovations that continue to propel the Pool & Spa Industry forward.
Las Vegas, NV, USA (PRWEB) August 01, 2013
PoolAndSpa.com, a Nevada based pool and spa web site, announces the winners of their 2013 Best of Class Awards for companies in the pool and spa industry. The award program recognizes outstanding and superior products, innovation and/or customer service in the pool & spa industry.
Various sources of information were gathered and analyzed to choose the winners in each category. This years' Awards were based on a combination of factors including product inspections and phone interviews, as well as very detailed consumer input through the use of a third-party consumer survey company. Over 5000 consumers were polled throughout 2012 to the present. The 2013 Best of Class Award Program focused primarily on quality, not necessarily quantity.
Among this years' winners for 2013 Best of Class Product Innovations in the Swimming Pool & Hot Tub Spa Industry are Arctic Spas, Blue Haven Pools, Premium Leisure, Atera AnyTemp Spas, Endless Pools, Viking Pools, Fort Wayne Pools, Latham International, Clearwater Spas, Beachcomber Spas and many, many more.
To view all the 2013 Best of Class Award Winning companies, visit this web link: http://www.poolandspa.com/page6500.htm.
To view the 2013 Best of Class Swimming Pool & Hot Tub Spa Buyers Guide Pages visit this link: http://www.poolandspa.com/swimming-pool-and-hot-tub-spa-buyers-guides.htm.
PoolAndSpa.com was one of the first pool and spa companies to have a web site and has been on the Internet since 1994. They have presented their Best of Class Awards every year since 1998. Award recipients receive a trophy award, certificate, an editorial review, and listings on the PoolAndSpa.com web site and in their online Newsletter publications.
For further information or media interviews regarding these Awards, contact Daniel Harrison directly at daniel(at)poolandspa(dot)com or call 702-437-4343 ext 105.
Or visit their web site PoolAndSpa.com at this link: http://www.poolandspa.com.
Related Information:
PoolAndSpa.com is the world's oldest and largest swimming pool and hot tub spa web site with over 5000 pages of information, swimming pool and hot tub spa chemicals and supplies, swimming pool covers, hot tub spa covers and parts...by far the biggest selection of pool and spa related products and information available anywhere in the world.
They have been in business for 33 years and have been on the web for 19 years. They also have over 130,000 pool and spa parts and products for those who already own a swimming pool or hot tub spa.
Contact Information:
Daniel Harrison, President
PoolAndSpa.com Inc.
672 Los Feliz Street
Las Vegas, NV 89110
702-437-4343