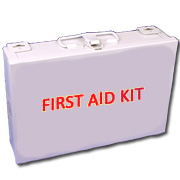 Austin, TX (PRWEB) February 27, 2014
When an emergency occurs, quick action is needed to resolve an issue with haste. When a lifeguard or even a parent is sitting by the pool watching their children or other patrons swim and they see something go wrong, having a first aid kit ready and available is extremely important and can save a life. The popular lifeguard supply website, Lifeguard Master, has recently launched a new line of pool first aid kits and lifeguard first aid kits.
The new line of pool first aid kits and lifeguard first aid kits offered by Lifeguard Master offer three different kits available for purchase depending on different needs. These styles include a 10-person kit, a 24-person kit, a 36-person kit, and a New Jersey First Aid Kit. For more information on these kits, please go to: http://www.lifeguardmaster.com/first-aid-kits-and-trauma-bags.
First Aid Kit – Compact – 10 Person
This kit is the smallest kit of the four available for purchase at Lifeguard Master. The kit contains 63 items and is approved by the American National Standard-Pool Institute. Great to have in a home, car, or poolside, the kit includes a variety of items useful in emergency situations. The 10-person kit comes complete with bandages, adhesive tape, antiseptic prep pads, gauze, first aid cream, gloves, sterile dressings, scissors, splinter forceps, and sting-stop prep pads. The kit also comes in a hard, plastic case with snap shut latches for secure closure. For more information on this kit, please go to http://www.lifeguardmaster.com/products/FirstAidKit10Person.
First Aid Kid – Standard – 24 Person
Similar to the compact first aid kid, this kit is great for average to medium size pools and meets many different state codes. The kit includes adhesive strips, tape, first aid cream, gauze, compresses, gloves, iodine swabs, insect sting swabs, ice packs, absorbent compress, eye dressing, a tourniquet, and more. The kit contains 227 items and is approved by the American National Standard-Pool Institute.
First Aid Kit – Complete – 36 Person
Extending on the smaller two kits, this lifeguard first aid kit is great for large and commercial sized pools. This kit includes a pocket CPR mask, bandages, antiseptic towlettes, bio-hand cleaner, eye pads, eye wash, safety pins, compresses, disposable gloves, and many more items. This kit is also approved by the American National Standard-Pool Institute and comes with a plastic carrying case for easy transportation.
New Jersey First Aid Kit
The New Jersey First Aid Kit meets all pool regulations in New Jersey contains cold packs, spool tape, bandages, gauze, and more. This kit comes conveniently packed in a plastic carrying case. This ready to use kit is perfect for many pools across the United States.
Lifeguard master is known for their quality products and fast delivery. The company knows that by providing high quality products with lifeguards in mind, their shoppers will continue to visit the site for all of their lifeguard supply needs. For more information on any of these kits, please click on: pool & lifeguard first aid kits are found here.
"Awesome price on this product! I have paid double the price on other websites for the same quality product. The order arrived quickly and I had great customer service," says Becky in Middletown, Pennsylvania.
Lifeguard Master also offers first aid stuffed fanny packs and trauma bags that are great for those in the healthcare industry such as EMT workers. It is important for trauma kits or first aid kits to be in a convenient and easy to get to place in case an emergency occurs. With different sizes and first aid kit styles, these lifeguard first aid kits are perfect to have ready by the poolside, in a workshop, a campground, an office, a business, and in a car. Other essential items needed by the pool side include a spine board with head immobilizer and strap and a rescue tube, among other items.
Typically, standard delivery on these products offered by Lifeguard Master is five business days but many shoppers are often surprised how quickly items are delivered.
Besides having a pool first aid kit by the swimming pool or waterside, many people keep first aid kits in their car, in the office, in a community center, in their home or kitchen, a campground, in a classroom, or a business. Emergencies are never really expected, which is why it is so important to have a first aid kit wherever someone travels to throughout the day.
Since the company is owned by a former lifeguard of 7 years, keeping in mind what a lifeguard needs is top priority for Lifeguard Master allowing for excellent and high-quality products along with exceptional customer service.
For more information on these pool first aid kits, visit LifeguardMaster.com; their sister site at: http://lifeguardshirt.com/poolfirstaidkit/.
Lifeguard Master has been in the emergency and life saving industry for many years. Sammy, the owner and founder of Lifeguard Master has been a lifeguard himself for 7 years. He knows the importance have having all the equipment readily available for a first responder, and through the years Lifeguard Master has become a robust lifeguard supply and lifeguard store company, accommodating the anticipating needs of first responders around the country and around the world. Lifeguard Master's determination to excellence and rescue safety has quickly made it a leader in its industry. For more information, please give us a call, send us an e-mail or visit our website. Also to stay updated with the latest news in emergency supplies, please visit our forum where rescue professionals from around the country and world stay connect, and post the latest emergency news at LifeguardsOnline.com.
Sammy
Lifeguard Master
(714) 605-3090
http://LifeguardMaster.com