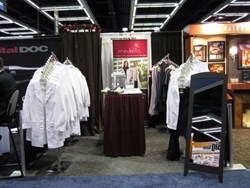 It's a complete medical uniform retail store built inside of each exhibitor hall.
San Diego, CA (PRWEB) September 30, 2013
Medelita is a proud partner of several prestigious medical associations throughout the U.S. and across the globe. In many cases, this involves participating as an exhibitor at various conferences devoted to serving the needs of each medical specialty. Over the next few weeks in October, the company plans to attend booth number 2048 at the American Society of Plastic Surgeons' "The Meeting" in San Diego and booth number 1032 at the American College of Emergency Physicians' Scientific Assembly in Seattle.
At each exhibit, Medelita will construct a specialized pop-up boutique, complete with racks of lab coat and scrubs samples in every size and a dressing room. Participants will have the opportunity to try on each sample before purchasing their tailored medical uniforms directly at the conference. Medelita uses an iPad equipped with a Square device for processing payments and sending orders back to their warehouse facility in San Clemente. "It's a complete medical uniform retail store built inside of each exhibitor hall, providing new customers who might be reluctant to shop online with convenient access to actually touch each product before purchasing," noted Medelita President and CMO, Joe Francisco. "It also gives us a chance to receive immediate feedback about our products directly from our personal engagements with our customers, which is impossible to get through our online store."
About Medelita
Medelita is redefining the way healthcare professionals present themselves at work. Combining innovative, certified, performance fabric technology with sophisticated designs and hand-tailored workmanship, Medelita offers the most refined, comfortable and functional gender specific lab coats and physician scrubs available. Exquisite detailing and traditional sizing ensure flattering shaping, an unsurpassed professional appearance and a vastly improved fit. Quality is so exceptional, the company provides a One Year Guarantee – which is unmatched by any other medical apparel manufacturer in the industry. For more information, visit the Medelita website at http://www.medelita.com or call 877.987.7979.
Contact:
Joe Francisco
Medelita
1046 Calle Recodo, Suite D
San Clemente, CA 92673
877.987.7979
joe(at)medelita(dot)com
http://www.medelita.com