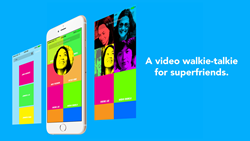 "I was frustrated with video chat, phone calls, and texting. So we built something to take the best from each, with none of the annoyances." - Alaric Cole, co-founder of Pop.
San Francisco, CA (PRWEB) February 19, 2015
Imagist Labs announced today the immediate availability of Pop - Video Texting for iPhone users.
Pop is a one tap video texting app for close friends. Conversations on Pop have the expressiveness of video chats and the convenience of text messaging.
Features:

Videos last up to 5 seconds.
Lo-fi videos ensure fast and cheap delivery.
Press and hold to record and send a video message.
Video messages automatically form longer conversations. Swipe to see and hear old messages.
Messages can be replayed indefinitely.
Bold pop filters enhance faces. Drag toggle to swap colors.
Research suggests that faces, voices and gestures make up 93% of human communication. Pop lets users show friends how they're feeling at any given moment, giving context to conversations that are richer and more authentic than text messages.
Pop's compressed videos are designed with poor network conditions and budget data plans in mind.
Pop is ideal for close friends and family who want a convenient and expressive way to talk to one another.
Pricing and Availability
Pop is available in English, Chinese, Portuguese and Spanish and is free on Apple App Store. Pop is designed for iPhones, running on iOS8 or above.
Website: http://www.hellopop.co
App Store link: https://itunes.apple.com/us/app/pop-video-texting/id875099176?
Video link: https://www.youtube.com/watch?v=gE7MQ4S6Jvc
About Imagist Labs
Imagist Labs designs and builds mobile apps for users to communicate and express themselves visually. The company was founded by Joshua Nguyen, a product leader at Tumblr and Flickr, and Alaric Cole, a veteran mobile engineer from Yahoo.