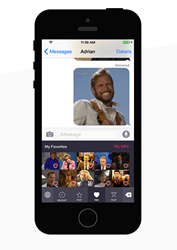 "We focused on creating something totally different that people really wanted; we observed that people were already sending GIFs by text." -PopKey Co-founder, Adrian Salamunovic
New York, NY (PRWEB) October 01, 2014
WorkshopX Inc. today announced the launch of PopKey, the first animated GIF keyboard for iOS 8.
PopKey requires iOS 8 and is supported on iPhone 4s and higher. Now available to download for free from the App Store.
"We focused on creating something totally different that people really wanted; we observed that people were already sending GIFs by text," says PopKey Co-founder, Adrian Salamunovic. "We made it really intuitive and easy while creating an incredible user experience and removing all friction. Our aim is to be one of the top 3rd party iOS keyboards available."
PopKey makes use of Apple's long awaited third-party keyboard extension, announced with the launch of iOS 8, to give app users a fun and easy way to send GIFs by text.
There are over 980 million users worldwide between the ages of 18-24 using SMS as their primary method of communication. PopKey has created a platform that empowers this massive audience to communicate in a more fun and expressive way.
PopKey is one of the most anticipated keyboards for iOS 8, according to Product Hunt, ranking ahead of Swiftkey, Fleksy and Swype.
"The long-term goal will be to build on a platform that can truly scale to millions of users," says Salamunovic. "We waited to launch because we wanted to give the community of Apple users time to settle in with iOS 8 and wait for some of the dust to clear while we perfected the last mile of our app."
Key features include:
-Loaded with thousands of popular, free, animated GIFs – perfect for any reply or conversation.
-Upload your own GIFs to personalize your keyboard.
-Access to recently used GIFs, the ability to save favorite GIFs and featured, trending content are all right at your fingertips.
-Instantly insert the perfect animated GIF into any text or email conversation – there's no need to stop what you're doing because PopKey is always one tap away.
Learn more at popkey.co
About PopKey
PopKey is a new 3rd party keyboard for iOS 8 that offers users the ability to easily insert animated GIFs into SMS message or email. PopKey is focused on changing the way people communicate. Our goal is to enhance written language with the expressive art of the GIF.
About WorkshopX Inc.
WorkshopX a company that invests in, builds and launches great technology businesses. Companies include PopKey, CanvasPop, Crated and DNA 11. Learn more at workshopx.com