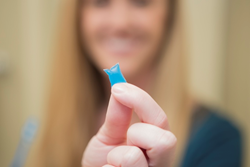 What makes Poppits even better is that the Pods are more fun than traditional tubes and are more eco-friendly. With this, we hope to not only make a difference in oral hygiene, but in the world.
Fort Lauderdale, Florida (PRWEB) May 09, 2016
Poppits Toothpaste Pods, an oral hygiene product for adults and children, is a revolutionary and environmentally-friendly toothpaste. With both adult and children's packages, Poppits has a flavor for everyone. Currently, Poppits is hosting a Kickstarter campaign to raise $50,000 in 30 days to complete development of the innovative product.
Poppits Toothpaste Pods contain the right amount of toothpaste as recommended by dentists, to ensure that adults and kids aren't using too little or too much toothpaste at a time. To use Poppits, simply take a Pod, pop it in your mouth and brush teeth normally. The softgel pod melts in your mouth releasing a fresh burst of toothpaste.
"Traditional toothpaste tubes have been around for over 50 years. Our softgel pods are a revolutionary way to use toothpaste. More hygienic than traditional tubes, dentists love them, kids love them, there is a reduced amount of plastic pollution and they are overall better for the planet. Not to mention, there's no more of that gunky residue that builds up on the nozzle of squeezed up tubes!" said Poppits CEO Wayne Solan. "Better yet, kids love these little pods, which gets them engaged in oral care! What makes Poppits even better is that the pods are more eco-friendly. With this, we hope to not only make a difference in oral hygiene, but in the world."
Poppits packaging is made out of the latest innovative paperboard materials that biodegrades in less a year. This is an astonishing advantage compared to traditional toothpaste tubes that take up to 500 years to decompose in our landfills. The toothpaste inside Poppits Pods manufactured by one of the leading oral care companies in America.
These softgel toothpaste Pods not only make brushing teeth more fun, it eliminates waste. It's always hard to get that last bit of toothpaste from a rolled-up squeezed tube but with Poppits you get it all! Right down to the last fresh pod!
The original Whitening Poppits Pods come in fresh mint flavor. The minty toothpaste is sealed inside a whitening pod for a healthy whiter smile. They help remove stains from coffee, soda and more. The Kids' Poppits Pods come in three fun colors and bursts of fruity flavors that are kid-approved such as Sweet Strawberry, Green Apple and Merry Berry. Both the children's and adult's Poppits come with 90 Pods per pack.
Poppits Toothpaste Pods are a fun, dentist recommended way for adults and kids to obtain a healthy mouth. Interested people can pre-order the original or children's Poppits starting at $8 on Kickstarter at bit.ly/PoppitsKS.
ABOUT POPPITS TOOTHPASTE PODS
Poppits Toothpaste Pods have been designed to not only change the way people brush their teeth but also help the environment with eco-friendly packaging. Located in Fort Lauderdale, Florida, Poppits is excited to be working with one of the leading toothpaste creators to bring adults and children a new way to brush their teeth. To learn more about Poppits, please visit http://www.poppitstoothpaste.com.