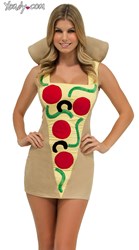 Phoenix, Ariz. (PRWEB) October 21, 2013
Halloween season is in full swing and Yandy.com, leading online retailer of women's sexy Halloween costumes, has announced the top costumes for 2013 based on Facebook "likes" by customers. With nearly 3,000 standard and plus size costumes to choose from, Yandy.com has noticed some clear front runners for Halloween 2013.
While Yandy.com does offer a wide variety of options, including everything from sexy skeletons and pumpkins to French maids and nurses, other more non-traditional costumes seem to be top contenders this Halloween. Additionally, one noticeable trend for Yandy.com's most popular costumes is that they are all exclusive costumes that can only be found at the e-commerce site.
The top five costumes based on Facebook likes for Halloween 2013 from Yandy.com include the following:
1. Sexy Pizza Costume
2. Nude Bikini Set (with available matching foam finger)
3. Sexy French Fries Costume
4. Sexy Killer Whale Costume
5. Sexy Tux and Ears Costume
Other notable popular costumes for 2013 include the Deadly Ninja Costume, Lethal Beauty Costume and Sock Monkey Costume, among others.
The popularity of Yandy.com's exclusive costumes often times end up going viral on social media websites and the Internet as a whole. The Sexy Pizza Costume, for example, has more than 7,000 likes on Facebook, received 128 shares on Facebook after being posted by Yandy.com, sparked several posts on popular websites like BuzzFeed.com and Yahoo! Shine as well as prompted several television shows like Ellen and The Today Show to feature it and a few of Yandy.com's other exclusive Halloween costumes.
Not only does Yandy.com boast one of the largest selections of sexy standard and plus size sexy Halloween costumes available online, but the site also offers customers a free, deluxe lace panty with every order, free shipping on all orders over $70 or more as well as same day shipping for every order.
About Yandy.com
E-commerce is on the rise and Yandy.com is one of the largest online retailers of women's lingerie, sexy Halloween costumes, swimwear, rave wear, shoes, wigs, hosiery and clothing on the web. Founded in 2003, Yandy boasts more than 7,000 products always in stock at easily affordable prices. Yandy ensures that every customer will receive a safe, secure and private online shopping experience and is listed as a Google Trusted Store. Yandy is dedicated to customer service and only sells what is in stock which allows for quick, same day shipping. Offering the highest quality products at the most affordable prices in the market, Yandy has become a leader in ecommerce. Yandy works closely with all of the manufacturers the company carries and hand selects all of the items on the available for purchase on the site to ensure customers have the largest and most diverse collection of items to choose from. In addition, the customer service team at Yandy is unrivaled. With attentive and helpful operators, should a question or problem arise, the customer service team at Yandy is always willing and able to assist. At Yandy, every customer can Be Sexy.
###