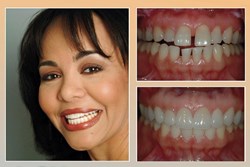 People who have crooked, broken, gaping or unattractive teeth can now get a perfect smile with the porcelain veneers.
Springfield, NJ (PRWEB) November 04, 2013
Many will be excited to learn that Ack Smiles is now performing the treatments to apply porcelain veneers to people's teeth. Under the supervision of Dr. Carranza, Ack Smiles has already achieved some great results and received great comments from patients for this job. Porcelain veneers can be called one of the best treatments today for making the teeth look better, whiter and more beautiful. These veneers have become a great and economical way for restoring the smile and confidence of people.
Porcelain veneers have provided people with a great way of restoring their smiles. People who have crooked, broken, gaping or unattractive teeth can now get a perfect smile with the porcelain veneers. The best thing about these veneers is that they don't require a procedure as complex and complicated as dental implants. Porcelain veneers are attached to the front wall of the teeth for making them look perfect to the person looking at the wearer.
There was a time when they required time too. The dentists had to wait for long to have the right veneers ready for the patient since the veneers must match the rest of the teeth in the mouth and fit the tooth perfectly. However, with today's technology and equipment it is now more predictable and easy to have porcelain veneers bonded to the teeth. Being part of the cosmetic dentistry, this procedure adds a great beauty in the smiles of the people who elect porcelain veneers to enhance their smiles.
Dr. Carranza is known for making use of the latest equipment to make the procedures faster than ever. Now, patients can visit Ack Smiles and get the porcelain veneers applied to their teeth without the need of multiple appointments. Dr. Carranza will prepare veneers with the help of latest equipment that he already specializes in.
Ack Smiles is the perfect place for New Jersey dwellers to have their smiles treated with the most reliable and proven techniques in dentistry. Dr. Carranza adopts the best methods for all dental procedures including the surgical procedures. He ensures that all the latest equipment is available at the clinic to successfully get done with all dental procedures. Being a propagator of minimally invasive dentistry, he can assist almost any type of patient from those who are ready for surgical procedures to those who feel anxious and restless after listening to how dental treatment is performed.
Specializing in cosmetic dentistry, Dr. Carranza is optimistic about its future and he thinks that porcelain veneers provide a very sturdy and strong support for the teeth. People who have crooked, chipped or broken teeth can opt for porcelain veneers and live a happy life. Large gaps in teeth can also be cured with veneers and the color of teeth can be best improved with them. Dr. Carranza is currently providing the safest and most reliable dental veneer treatments in New Jersey and New York currently.
----------------------------
Contact Information
New Jersey Office:
155 Morris Ave. Suite 3
Springfield, NJ 07081
Phone: 1.973.921.0505
New York Office:
595 Madison Avenue, Suite 703
New York, NY 10022
Phone: 1.212.355.5655
Email: smile@acksmiles.com
Web: http://www.acksmiles.com