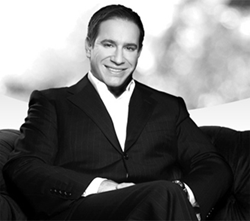 Los Angeles, CA (PRWEB) January 12, 2015
Porcelain veneer expert, Dr. Kevin Sands is now offering complimentary consultations for porcelain veneers. Dr. Kevin Sands has worked with some of today's biggest celebrities, and his work is unparalleled. This is a unique opportunity that allows would-be patients to learn more about Dr. Sands and his work and to decide if porcelain veneers can help them get the smile of their dreams.
Dr. Sands offers this special opportunity for patients who are unhappy with their smiles, and each one will be given the celebrity treatment and personalized attention they deserve. "I do custom work, as no two smiles are ever the same. At my office, we create the Ferrari of veneers," explains Dr. Sands. During the porcelain veneers treatment process, "Clients should expect a full facial analysis, a meeting with our esteemed in-house ceramist to discuss color and shape and an in-depth discussion about the smile makeover process. We take thousands of porcelain veneers before and after pictures so our patients can get a true idea of what their smile will look like after the procedure"
About Dr. Sands
Dr. Sands is committed to providing his patients with excellence in cosmetic dentistry. He has worked not only with top celebrities but with patients from diverse walks of life. Dr. Sands graduated from the University of Southern California School of Dentistry and the prestigious Las Vegas Institute for Advanced Dental Studies, and today he is a member of various dental organizations.
About Porcelain Veneers
Veneers are a transformative cosmetic treatment. Unlike other restorations, porcelain veneers completely cover one or more teeth to create a brand-new look. They are often used on teeth that are stained, chipped, worn, or otherwise damaged. They can create an illusion of straight, even teeth for those with gaps, crowding, or crooked teeth. The process can usually be completed in just a few appointments, including:

The initial consultation, which may include records, the design process, and previews
The treatment plan
The preparation of the teeth
The application
Once veneers have been bonded to teeth, they can last 15 years or more, and while their smooth porcelain surface reflects light just like natural teeth, they are less likely to absorb stains. This means they can stay bright and beautiful the entire time they are on teeth. Visit http://www.porcelainveneerlosangeles.com to learn more.