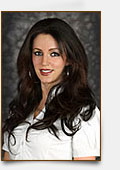 Los Angeles, CA (PRWEB) May 27, 2014
Los Angeles veneers dentist, Dr. Poneh Ghasri, now offers dental veneers to enhance or improve the appearance of her patients' smiles for smile makeovers. Dental veneers are one of the most versatile treatments available today in cosmetic dentistry. They can be used to conceal a single flawed or damaged tooth or to create an entirely new smile in just a few dental visits.
About Dr. Poneh Ghasri, Expert in Veneers Teeth Los Angeles
Dr. Poneh Ghasri is a top Los Angeles Invisalign dentist. She earned her degree in neuroscience from UCLA before completing her DDS at the UCLA School of Dentistry. After graduation, she continued her advanced education in various dental fields, including cosmetic dentistry and implant reconstruction. She offers complete dental care that includes dental veneers and smile makeovers. Dr. Poneh Ghasri is well-known in the modeling and entertainment industry and is extremely popular with her patients due to her skilled artistry and her warm, compassionate chair-side manner.
Veneers may be a good choice for anyone who is unhappy with the appearance of his or her smile. They can be used to whiten stains or discolorations, conceal chips and fractures, close gaps, straighten crooked teeth and correct the size or shape of teeth. They are simple in design: veneers are porcelain shells that are bonded to the front of the tooth. This allows them to be more conservative in nature than porcelain crowns, which fit over the entire crown of the tooth. Once veneers teeth have been placed, they are resistant to stains and can look great for many years to come.
The best candidates for dental veneers are those with healthy teeth and gums who prefer a permanent solution to their cosmetic concerns. Los Angeles veneers dentist Dr. Ghasri can help patients decide if dental veneers are right for their needs. Their various options and alternatives can be explored, and they can learn more about the cost of veneers in Los Angeles, which can vary based on the number of veneers needed. Most patients can be ready to enjoy their new smile in just three dental appointments, which include the planning phase, the preparation and the final placement. Some patients may need additional appointments to make adjustments or to ensure the best possible fit.