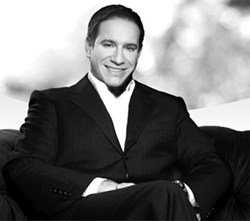 Beverly Hills, CA (PRWEB) July 19, 2013
Patients who are suffering from crooked, damaged or worn teeth often despair of having a perfect smile. However, dental treatments are available that can restore beauty, symmetry and whiteness to even the most damaged teeth. Dr. Kevin Sands, Beverly Hills porcelain veneers expert, is now offering veneers to create flawless smiles.
Porcelain veneers are thin layers of porcelain that are customized to fit over teeth. They require less preparation than porcelain crowns and can be used to correct the appearance of stains, chips, worn enamel, gaps and other common cosmetic issues. Dr. Kevin Sands helps his patients customize every aspect of their smiles from color and tone to shape and fit. Teeth often need only minimal preparation, which reduces the amount of discomfort patients will experience, and many types of veneers can be placed in just two to three dental visits.
Dental veneers can be used alone to rejuvenate a smile or with other procedures to create a transformative smile makeover. Dr. Sands, Beverly Hills porcelain veneers expert, offers extensive cosmetic treatments that include teeth whitening, Zoom whitening, veneers, Lumineers and Invisalign. At the initial consultation, areas of concern will be noted and a smile treatment plan designed. If veneers are desired, the teeth may be prepared at this appointment. Preparation generally involves a small amount of enamel removal. Temporary veneers can immediately improve a smile and protect the prepared teeth. At the next appointment, the veneers will be securely bonded using powerful dental resins and a special curing light.
About Dr. Sands, Expert in Porcelain Veneers Beverly Hills
Dr. Kevin Sands is a well-known expert in porcelain veneer in Beverly Hills who is committed to his patients' dental health and smile aesthetics. A graduate of the University Of Southern California School Of Dentistry, Dr. Sands completed advanced training at the Las Vegas Instituted for Advanced Dental Studies for Advanced Anterior Aesthetic Dentistry. His work has been showcased on programs such as "Dr. 90210" and in "In Touch" and "Life & Style" magazines. A member of the Academy of Cosmetic Dentistry and the American Dental Association, Dr. Sands continues to expand his knowledge base and refine his skills to ensure his patients have access to the most advanced treatments available.
Contact
Dr. Kevin Sands, DDS
414 N. Camden Drive, Suite 940
Beverly Hills, CA 90210
Phone: (310) 273 - 0111
Website: http://www.porcelain-veneers-beverlyhills.com