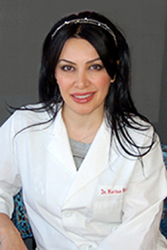 Burbank, CA (PRWEB) April 22, 2015
Burbank porcelain veneers expert, Dr. Marine Martirosyan, is now offering complimentary consultations for dental veneers. Dental veneers are a cosmetic treatment that is used to cover stained or otherwise cosmetically damaged teeth. They can be a great option for anyone with good dental health and minor to more serious cosmetic flaws or for those with multiple flaws.
Porcelain veneers before and after pictures show many of the ways that veneers can be used. Some of the types of aesthetic problems that can be corrected with veneers include:

Stained or discolored teeth
Chips, cracks, and worn enamel
Fractured or broken teeth
Teeth that are crooked or gapped
Teeth that are small or short
Teeth that are irregularly shaped
Teeth with other minor, moderate, or more severe aesthetic problems
Dr. Martirosyan can explain the average cost of porcelain veneers at a patient's consultation. The cost can vary based on the extent of treatment and the problems being addressed. Although insurance does not usually cover veneers, many other payment and financing options can be used to ensure veneers are affordable enough for just about any budget. The team works with patients to find the best solutions for their needs.
Veneers are an excellent option for just about anyone who is unhappy with their smiles, and Dr. Martirosyan's team is committed to ensuring complete satisfaction. According to her team, "(We) are eager to make you feel comfortable, and we will explain all aspects of your dental care thoroughly before any treatment is performed. Our staff will win you over with their helpfulness and friendliness in addressing all your needs from insurance processing to prompt attention to emergencies."
About Dr. Marine Martirosyan, Expert in Porcelain Veneers Procedure Burbank
Dr. Martirosyan graduated from USC and continued her studies at the prestigious Las Vegas Institute. She is a former USC clinical faculty member and has received awards for her commitment to advanced dental education. Dr. Martirosyan is dedicated to advancing her skills and knowledge and is an active member of the American Dental Association, the American Academy of Cosmetic Dentistry, and the Academy of Dental Sleep Medicine. She is also Lumineers-certified.