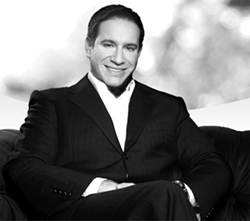 Los Angeles, CA (PRWEB) February 03, 2015
Dental veneers dentist, Dr. Kevin Sands, is now offering complimentary veneer consultations that can help people achieve their New Year's resolutions for Hollywood smiles. Veneers are a special type of cosmetic restoration that is used to cover superficial flaws on teeth, including chips, worn enamel, stains, and gaps. Many people want more attractive smiles, and veneers may just be the answer.
Veneers can be placed in just two to three dental appointments in most cases, including:

The initial consultation, during which patients can determine their candidacy for veneers and learn more about the veneers cost per tooth
The planning phase, during which patients work with Dr. Sands to design their new smile
The preparation, which is needed to ensure the veneers fit comfortably over the teeth
Bonding, during which the veneers are applied and secured to teeth
This consultation offer will allow patients to learn more about veneers and find out if they are candidates without any financial obligation. During the consultation, Los Angeles dental veneers specialist, Dr. Sands will explain how veneers work and answer any questions patients may have.
According to Dr. Sands, "My patients range from major celebrities to grocery store workers … but they all have one common goal: They want that perfect smile." He offers smile solutions that help his patients achieve their goals. Patients can get smiles that are brighter, more aligned, more even, or simply more attractive using veneers. "I have my own lab, my own ceramist. I have a team of artists that are actually hand-making each tooth customized to each individual. No smile looks the same," explains Dr. Sands. "(Veneers) should last at least 20 years," he adds. Check out the before and after pictures to see how veneers can help improve your smile.
About Dr. Sands
Dr. Kevin Sands is a premier Los Angeles dental veneers dentist. A graduate of the University of Southern California's School of Dentistry, Dr. Sands has trained with some of the world's most knowledgeable and elite cosmetic dentists. He continued his studies at the prestigious Las Vegas Institute for Advanced Dental Studies for Advanced Anterior Aesthetic Dentistry. Today, Dr. Sands welcomes patients from all walks of life to his luxurious office, and he is a proud member of the California State Dental Association, the American Academy of Cosmetic Dentistry, and the American Dental Association.