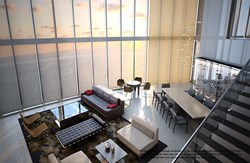 We are very excited to be able to offer investors the opportunity to invest in such a prestigious project that is attracting a lot of attention in the US.
(PRWEB UK) 26 November 2013
The Porsche Design Tower is a multi-million pound project in more ways than one according to Colordarcy.com. Porsche's Design Tower has closed one of the largest loans for a real estate project in the South Eastern United States at a cool $214 million. (Source: Porsche Design Condo Gets Record $214M Financing bizjournals.com, September 25).
The Porsche Design Tower has already sold more than half of its 132 units even though prices start at $4.5 million.
According to the latest information, the homebuyers and investors have already invested $535 million buying apartments at the landmark 60-storey tower. (Source: bizjournals.com, September 25).
Loxley McKenzie, Managing Director of Colordarcy.com commented, "We are very excited to be able to offer investors the opportunity to invest in such a prestigious project that is attracting a lot of attention in the US.
At prices starting from $4.5 million, investors can expect some of the best apartments money can buy.
Apartments will have private swimming pools, huge terraces, outdoor kitchens and even private elevators for their cars. The first people are expected to be moving in to the apartments in 2016."
According to Colordarcy, the apartments range in size from 4,200 to 10,000 square foot and apartments will come with either 3, 4, 5 or 6 bedrooms and two or even four garages.
"With Porsche designing the apartments, it should come as no surprise that the designers have come up with ways to make things as comfortable as possible for prestige car owners," McKenzie added.
"It will be possible for owners to park their car close to the living room where there will be no concerns about parking underground."
The natural light comes flooding in from high windows and on the mostly sunny days you get in Miami, you can just sit back in spacious seating areas and enjoy the ocean sunsets outdoors.
According to A Place In The Sun (Miami property market booming: yet still offers value for money, October 22) British investors continue to be active in the upper end of the market in Miami as prices have risen to within 3% of their 2006 high following two years of double-digit growth.
Notes to the editor:
Colordarcy is a leading property investment company that specialises in finding positive cash flow investment properties worldwide. Their aim is to provide their clients with properties that offer the unique combination of strong growth returns and cash flow positive income.
Investing in positive cash flow property significantly reduces the risk because the property will pay for itself regardless of market conditions, employment status or other financial commitments.
Colordarcy provides complete support before, during and after a sale, including finding tenants, financial assistance, viewing trips and currency services. Colordarcy are proud members of the 'Association of International Property Professionals' (AIPP), and abide by its code of conduct, one established to protect the buyer, by ensuring members follow professional guidelines and procedures.
Colordarcy investment property portfolio includes some of the best properties for sale in Brazil, Florida, Turkey and the United Kingdom.
For more information, supporting pictures or logo artwork, please contact:
Brett Tudor
PR Manager
Tel: +44 (0) 207 100 2393
Email: press(at)colordarcy(dot)com
Web: http://www.colordarcy.com/
Colordarcy Investment Ltd
28 Leman Street
London
E1 8ER