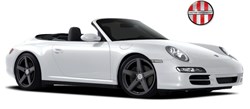 Porsche is in our lifeblood at Victor Equipment.The Baden Rotary Forged is the latest example of our commitment to providing Porsche devotees opportunities to personalize their vehicles.
Huntington Beach, CA (PRWEB) November 26, 2013
Victor Equipment, long leaders in the development of high-performance Porsche aftermarket wheels has introduced a stunning new model, designated Baden. Twelve sizes, from 18" to 22" diameter, assure a perfect fit for all recent Porsche models from the Boxster roadster to the big Cayenne SUV.
Baden Custom Porsche Wheels are named after the Hockenheimring Baden-Wurttemberg, a motor racing circuit located in the German Rhine Valley. The track is host to the German Grand Prix, going back to 1970. Victor Equipment is grounded in a rich racing heritage, founded by a former Formula 1 driver. The precision and relentless pursuit of performance that is in Victor Equipment's DNA permeates ever product the company produces.
"Porsche is in our lifeblood at Victor Equipment," claims Terence Scheckter, president and founder of the wheel maker. "The Baden Rotary Forged is the latest example of our commitment to providing Porsche devotees opportunities to personalize their vehicles without compromise in performance or safety," he added. Scheckter pointed out that the Baden expands Victor Equipment's lineup of custom staggered Porsche Wheels to six models in all.
The Baden design is inspired by the timeless tradition of German Bauhaus school of design, melding form and function and giving Porsche its simple, striking, straightforward lines. The Baden is a spare, elegant five-spoke model, available in classic Matte Black or in Silver with a mirror-cut face. Like all Victor Equipment Porsche wheels, the Baden model is hub centric for a smooth vibration-free ride. Each wheel is individually inspected to conform to rigid balance parameters before it leaves the factory. In addition to precisely incorporating the Porsche's unique wide bolt pattern, and matching the unusually high offsets required by the Porsche factory, the Baden accommodates the factory-supplied lug bolts and the original equipment Porsche Crest center caps. The Porsche tire-pressure monitoring system is fully supported as well.
Because it is engineered first and foremost to enhance the performance of any Porsche it is mounted on, the Baden wheel in manufactured using an advanced rotary forging manufacturing technology. The goal is to minimize wheel weight while actually increasing its strength and durability. The Baden is forged from a unique aluminum alloy, spun at high speed under intense pressure with computer-controlled machinery. This fundamentally alters the molecular properties of the alloy, creating a much tighter grain structure than found in a cast wheel. The resulting mechanical strength allows Victor Equipment engineers to reduce the thickness of the rim, with weight saving that accrues to the outer-most circumference of the rim. That means rotational mass is dramatically reduced which enhances vehicle performance.
Baden custom Porsche wheels are offered in pairings that support the staggered wheel fitment common to Porsches. For example, in 18" and 19" diameters, four wheels widths are available, including 8", 10", 10.5" and 11", while 8.5", 10" and 11" widths are available in 20" diameter Badens. This facilitates running a slightly wider wheel on the rear axle than the front axle, delivering more grip in both off-the-line and lateral acceleration. Cayenne Porsche Wheels by Victor Equipment in the Baden are also available in 22" diameter by 10.5" width.
The Victor Equipment website at http://www.victorequipmentwheels.com provides Porsche aficionados a wealth of opportunities to explore the full line of Victor Equipment Porsche rims. Click on the "Virtual Garage" tab in the main navigation bar to preview how each model wheel will look on any specific year, model and color Porsche.
For a US or Canadian dealer near you, call 800-479-9723 or visit the Victor Equipment homepage top search by zip code Victor Equipment dealers are located throughout North America and worldwide, including Discount Tire Direct on the web at discounttiredirect.com/.