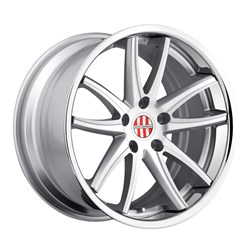 At Victor Equipment, our engineering team is committed to the development of wheels worthy of mounting on a Porsche.
Huntington Beach, CA (PRWEB) November 30, 2013
Porsche diehards can now find six stunning and distinctive custom Porsche wheels designed exclusively to complement all Porsche models by visiting VictorEquipment.com. There they can view the newest offering from Victor Equipment, the unique Kronen.
The Kronen is an innovative design, marrying the best of casting and forging manufacturing disciplines. A durable, light-weight forged outer barrel is mated with the stunning looks of a cast and machined spoke system. The two-part wheel is joined through an advanced, high temperature process called "fusion welding." This process creates a seamless 360 degree bond that is both aesthetically cleaner and lighter weight. The Kronen is as advanced visually as it is technically. It features an aggressive split five-spoke motif that is evocative of the Porsche mystique. It is available in Matte Black and Silver with Brushed Face and Chrome Lip.
"At Victor Equipment, our engineering team is committed to the development of wheels worthy of mounting on a Porsche," stated Victor Equipment president, Terence Scheckter. "As a lifelong Porsche devotee myself, I created Victor Equipment to provide Porsche owners unique opportunities for custom Porsche wheels without any risk of compromising performance or safety," Scheckter added.
Part of this obsession with providing Porsche wheels that are a perfect complement to Porsche vehicles is total support of the staggered wheel fitment common to Porsches. That means that the new Kronen, as well as other Victor Equipment wheels, are offered in pairings that facilitate running a slightly wider wheel on the rear axle than the front axle, for example 19x8 on the front and 19x9.5 on the rear. Running wider rims on the drive wheels means more grip in both off-the-line and lateral acceleration. Additionally, Victor Equipment Porsche rims maintain the large wheel offsets required for compatibility with the massive disk brakes found on all models of Porsches.
In addition to precisely matching the Porsche's unique very wide bolt pattern, the Victor Equipment aftermarket Porsche wheels allow for use of the factory-supplied lug bolts as well as accommodating the option of using the original equipment Porsche Crest center caps. The Porsche tire-pressure monitoring system is fully supported as well. Complete size and other technical details for the entire Victor Equipment family of wheels for Porsche can be found by looking at their application guide.
The Victor Equipment website at http://www.victorequipmentwheels.com provides Porsche aficionados a wealth of opportunities to explore the full line of Victor wheels for Porsche. Visitors can click on the "Virtual Garage" tab in the main navigation bar to preview how each model wheel will look on a specific year, model and color Porsche.
US and Canadian dealers can be identified by calling 800-479-9723 or by zip code search on the Victor Equipment homepage. Victor Equipment dealers are located throughout North America and worldwide, including Discount Tire Direct on the web at discounttiredirect.com/.