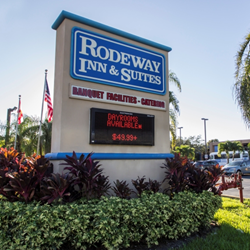 " We've always offered great service at great prices. Now we've added a modern look to our wonderful updated hotel."
Fort Lauderdale, FL. (PRWEB) December 03, 2014
The beautification effort features extensive landscaping, fresh painting and new signage on the outside of the Rodeway Inn Cruise Port hotel. New window awnings were installed over outside windows. Inside, the lobby received a décor makeover. Comfortable new furniture was introduced, and hotel wall-hangings were refreshed. Even the ice-cream case in the lobby was upgraded.
"We wanted to put our best foot forward during cruise season, "says hotel executive manager Izzy Fintz." We've always offered great service at great prices. Now we've added a modern look to our wonderful updated hotel."
Guest rooms were appointed with new carpet, new floor tiles and fresh coats of paint. Brand-new 32-inch LCD wide-screen TVs and granite-top counters were installed, along with fresh Serta Pillow Top bedding and new room furniture. New fixtures and new lights also were put in place throughout the property. The pool was resurfaced, new cushions were added to lounge chairs and the breakfast area was re-organized. The parking lot was resealed, re-striped and expanded because travelers have shown great interest in the hotel's Stay, Park and Cruise package for long-term parking. The hotel also expanded its free shuttle service with the purchase of a new vehicle, a Mercedes Sprinter Van. Other hotels charge customers for shuttle rides to the cruise port or airport, but Rodeway is still free.
"We get people to Port Everglades for the buffet lunch," Fintz says of the hotel's free shuttle service. "Most other hotels only get you there for departure."
The new Marina 84 Sports Bar and Grill, located next to the hotel, also received a makeover. The on-site sports bar features a re-invigorated menu, new décor and regular entertainment. Room service is available. Special events include poker, karaoke, Australian Rules football, rugby and live music performances.
Located near Port Everglades cruise port and Fort Lauderdale - Hollywood International Airport, the 150-room Rodeway Inn and Suites Fort Lauderdale specializes in pre-cruise and post-cruise vacation stays and package deals. During the week, the hotel caters to south Florida business travelers. Day Rooms day stays are available from 10 a.m. until 6 p.m. It's better than sitting around the airport! The hotel offers guests free shuttle service, free breakfast and free WiFi. Enjoy the hotel's sports bar-and-grill, the traveler's business center and the cruise gift shop. Features family-friendly staff, heated outdoor pool, cable TV, room service, Jacuzzi rooms.
Remember, always book direct and save; best available rates are always found at: http://www.hotelftlauderdale.net
Media Contact:
Izzy Fintz
Phone: 954-792-8181
Email: ifintz(AT)rodewayfll.com