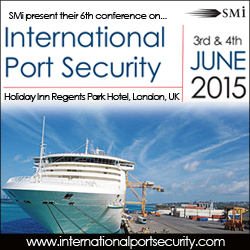 London (PRWEB UK) 18 March 2015
With the current threats and security challenges being faced in the Mediterranean and continued illegal migration into the EU through sea borders, there has never been a more relevant time and need for the maritime security community to come together and strengthen relations in order to boost security.
With this in mind, SMi have announced the return of their 6th annual conference on International Port Security taking place on the 3rd and 4th June 2015. The two day event will unite Heads of Ports, border control police, coast guards, crime units and security experts from European nations to discuss the real life processes and issues which effect everyday port security, both in terms of practicality and in terms of strategy.
There will be an opening keynote address from Commander David Philips, Chief Harbour Master, Port of London Authority who will discuss: Solving the Conundrum of Ports Security. The second day keynote address will be led by Christian Dupont, Deputy Head of Unit, DG MOVE from the European Commission who will present on: European Union : a major player in port security?
Delegates will have the chance to attend a site visit to The Port of Dover, held on the 5th June alongside a pre-conference interactive workshop on: Weathering the Storm with STORM which will be held on the 2nd June. The workshop will be hosted by: Professor David Attard, Head of Maritime Security Compliance, Malta Transport Authority and John Schembri MSc (Sy & RM), PgC OHS (Portsmouth), SRIM. Click here for more information.
The 2015 expert speaker faculty includes:
Rear Admiral Luis Sousa Pereira, Commandant PRT Navy Marine Corps (Fuzileiros), Portuguese Navy
Dario Barbaric, Port Facility Security Officer, Environmental and Quality Manager, Dubrovnik Port Authority
Juan Martín González, Chief of Safety & Security, Port Authority of Vigo
Commander Hallvard Flesland, Branch Head NCAGS, NATO Shipping Centre, NATO Shipping Centre
Dr Karen Sumser-Lupson, Commissioner, African Maritime Safety and Security Agency
Christian Dupont, Deputy Head of Unit, DG MOVE, EU Commission
Commander David Phillips, Chief Harbour Master, Port of London Authority
Stephen Reid, Chief Officer, Belfast Harbour Police
Click here for more information on speakers and presentations
For those who are interested in attending there is currently a £300 early bird discount which expires on the 31st March. Further information is available online at http://www.internationalportsecurity.com
6th annual International Port Security conference
3rd - 4th June 2015
Holiday Inn Regents Park Hotel, London, UK
http://www.internationalportsecurity.com
Sponsored by Securitas
-----------------END--------------
About SMi Group:
Established since 1993, the SMi Group is a global event-production company that specializes in Business-to-Business Conferences, Workshops, Masterclasses and online Communities. We create and deliver events in the Defence, Security, Energy, Utilities, Finance and Pharmaceutical industries. For more information visit http://www.smi-online.co.uk