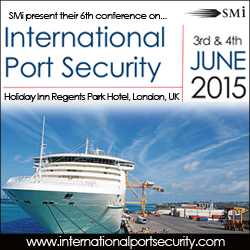 (PRWEB UK) 28 April 2015
SMi are delighted to announce Stephen Hilton, Head of Maritime Security Compliance & Port Security Policy of Department for Transport (DFT) will present the opening keynote address on day one of this year's highly anticipated International Port Security conference.
This event will provide the opportunity to hear Stephen's keynote address on: Port Security – the UK Approach. His presentation will focus on: The security 'universe', Approach to compliance, Challenges for the regulator, Stakeholder engagement and Cross government working
12 key ports alongside border control police, coast guards, crime units and security experts will attend from:
Belfast Harbour, China Maritime Centre, Department For Transport, DP World, Dubrovnik Port Authority, European Commission, European Shippers' Council, Gibraltar Port Authority, International Seafarers Welfare and Assistance Network, Klaipeda State Seaport Authority, Malta Transport Authority, Marine Risk Management, Maritime Piracy Humanitarian Response Programme, Ministry of Public Order and Citizen Protection, NATO Shipping Centre, Port Authority of Vigo, Port of Antwerp, Port of Liverpool Police, Port of London Authority, Port of Vienna, Portland Port Limited, Portuguese Navy, Securitas plus many more.
There will also be limited places to attend a site visit to The Port of Dover on the 5th June 2015. There are a maximum of 25 places are available, visit the website for further details.
The International Port Security 2015 expert speaker line-up includes:

Rear Admiral Luis Sousa Pereira, Commandant PRT Navy Marine Corps (Fuzileiros), Portuguese Navy
Dario Barbaric, Port Facility Security Officer, Environmental and Quality Manager, Dubrovnik Port Authority
Juan Martín González, Chief of Safety & Security, Port Authority of Vigo
Commander Hallvard Flesland, Branch Head NCAGS, NATO Shipping Centre, NATO Shipping Centre
Dr Karen Sumser-Lupson, Commissioner, African Maritime Safety and Security Agency
Christian Dupont, Deputy Head of Unit, DG MOVE, EU Commission
Commander David Phillips, Chief Harbour Master, Port of London Authority
Stephen Reid, Chief Officer, Belfast Harbour Police
For more information or to register visit: http://www.internationalportsecurity.com/prweb, alternatively contact James Hitchen on: +44 (0) 20 7827 6054 or email jhitchen(at)smi-online(dot)co.uk
Sponsored by: Securitas
------------------------- END --------------------------
About SMi Group:
Established since 1993, the SMi Group is a global event-production company that specializes in Business-to-Business Conferences, Workshops, Masterclasses and online Communities. We create and deliver events in the Defence, Security, Energy, Utilities, Finance and Pharmaceutical industries. We pride ourselves on having access to the worlds most forward thinking opinion leaders and visionaries, allowing us to bring our communities together to Learn, Engage, Share and Network. More information can be found at http://www.smi-online.co.uk