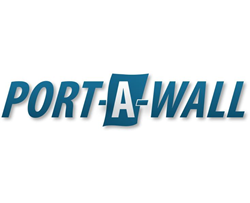 Affordable and portable room dividers / privacy screens for just $59.99 per unit
Goode, VA (PRWEB) May 14, 2015
Port-A-Wall, an expanding innovator of conveniently portable and lightweight room dividers, is pleased to announce its twelfth-year anniversary. Offering a simple but effective solution to space optimization and privacy needs, Port-A-Wall has found customers in a countless number of categories—from home use to large-scale emergency response to healthcare screening.
Founded in 2003, Port-A-Wall continues to be an emerging force in a market space filled with expensive, bulky and products. Featuring portable walls that can be assembled and disassembled without tools and in mere minutes, Port-A-Wall is a universal no-hassle solution to interior space management and privacy.
Port-A-Wall's durable and fire-retardant screens have been used in a variety of applications requiring impromptu privacy or control of crowd flow. Port-A-Wall has aided emergency responders, medical personnel, convention and banquet planners, dormitory students, frequent travelers, and theatre crews in making the best use of often limited space—and doing so affordably. Whether for partitioning shared children's rooms or hiding an unsightly renovation, homeowners have also found Port-A-Wall to be a convenient and cost-effective solution for repeated use and storage.
Founder Ray Pfaff believes that the launch of the updated website will help respond to the growing customer demand. "As word of mouth spreads, privately owned companies, government agencies and homeowners alike are all thrilled with the potential cost-savings and convenience that Port-A-Wall can afford them," he explains. "Optimizing the utility and privacy of your space shouldn't necessitate a huge financial commitment."
Though perfectly handy for use in a small household, Port-A-Wall has also been proven scalable for configurations in larger spaces. Whether for refitting a convention center, temporary shelter or banquet space, Port-A-Wall offers the most dynamic and inexpensive solution by offering bulk discounts for orders over 20 units.
About Port-A-Wall
Port-A-Wall is a US-based company established in 2003 in response to the need for affordable and portable room dividers, partitions, privacy screens, portable walls and more. Customers including hospitals, government and military sectors, emergency response personnel, hotels, theatres, convention centers and consumers for in-home use have a versatile number of uses for the Port-A-Wall. The no-tools-required, easy-to-assemble, compact and lightweight portable wall has been used in wide number of applications including medical and dental screening, disaster relief situations, emergency response, commercial offices, and in schools and churches for classrooms —in each case providing privacy and the ability to partition off areas to make the best use of space.
To learn more about how you can use Port-A-Wall to maximize your space, please visit us at http://www.portawall.com or call us at (866) 806-0217.
See the Port-A-wall on YouTube