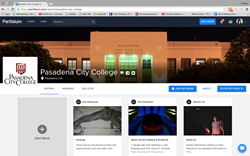 The support and service our campus experienced with Portfolium exceeded our expectations."
San Diego, CA (PRWEB) June 15, 2016
After signing a partnership in January with the California Community Colleges system ("CCC"), Portfolium.com's CCC partners are off and running with the ePortfolio and Career Readiness platform. Here's what CCC faculty and administrators have to say about the experience so far:
"I've done lots of class workshops on various ePortfolio platforms over the years. Now that Portfolium is integrated with Canvas, my student orientation workshop success rate has become 100%. The hurdles typically faced by students no longer exist and students agree it is an easy system to use."
"The support which Portfolium provided me has been phenomenal! They return every email and phone call to answer every question. They have created flyers and marketing materials to assist in my journey to get the product adopted and accepted on my campus. They have been amazingly helpful!"
-Linda Delzeit, Online Program Coordinator at LA Trade Technical College
"Portfolium was probably the easiest launch of my career. It was painless. In less than a week, we had the Cabrillo College site up and ready for students. Portfolium gave me template emails to introduce students to the product. Students have reacted very positively to this new opportunity to build a career portfolio. Faculty in CTE and STEM programs are embedding it in their curriculum. Alumni are telling former Cabrillo classmates that they are using it at the university and that it will transfer with them. Students began adopting it almost overnight."
-Dennis Bailey-Fougnier, VP Student Services, Cabrillo College
"The support and service our campus experienced with Portfolium exceeded our expectations. They answered every question promptly and thoroughly, supporting us completely through the entire process."
-Amanda Taintor, Faculty Coordinator Instructional Design, Reedley College
Portfolium is also partnered with the California State University System (CSUs) and the University of California System (UCs). The existing UC and CSU system partnerships added more value for the CCCs creating a powerful network and skills competency marketplace, as 51% of CCC students transfer to a CSU or UC.
"Every student in the CSU, UC and CCC now has a chance to connect and view each other's work. In addition, employers will be able to access this goldmine of talent, which has the potential to streamline California students' school-to-work transition."
-Deone Zell, Associate Vice President of Academic Technology at California State Northridge
CCC Adoption of Portfolium
Thus far, the following CCC colleges have launched Portfolium to take advantage of the free service that students can take with them after graduating/transferring: Los Angeles Trade Technical College, Pasadena City College, Reedley College, Cabrillo College, Palo Verde College, Victor Valley College, and Gavilan College. They've joined the Cal State and UC Systems in creating an integrated academic and career advancement pathway for students across the state of California.
If you would like to activate Portfolium on your campus, contact Ashley Hyman at ashley(at)portfolium(dot)com.
About Portfolium
Portfolium partners with colleges & universities to help students connect learning with opportunity. The ePortfolio network helps 5M+ students from over 150 partner institutions manage their skills and launch their careers. Portfolium's cloud-based platform empowers students with lifelong opportunities to capture, curate, and convert skills into job offers, while giving learning institutions and employers the tools they need to assess competencies and recruit talent.
About The California Community Colleges System
The California Community Colleges is the largest system of higher education in the nation, serving over 2.1 million students attending 113 colleges in 72 community college districts.