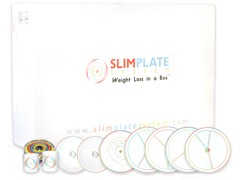 ...Industry insiders comment that SlimPlate will set the pace in weight-loss for some time to come...
Rock Hill, SC (PRWEB) August 08, 2013
Weight loss just became a lot easier with the introduction of the SlimPlate System portion control kit. Gone are the days of trying to count calories and using those clumsy calorie-calculators. The key to lasting weight loss is portion control. The SlimPlate System makes it easy to control the portions of food about to hit the table. Created by two weight-loss physicians, this new system has already garnered the attention of the weight-loss community, and has created quite a buzz on the weight loss forums and blogs.
The simplicity of the new SlimPlate System for weight-loss is only superseded by its effectiveness. The kit, also referred to as "weight-loss in a box," provides a complete plan based on the premise of eating five meals a day, and controlling the size of the individual portions of food items. Rather than give the portion-control responsibility to the user, plates, cups, bowls and a set of one-of-a-kind "Portion Control Cutting Rings" that are provided in the system take charge. There is no need for the user to change their diet. The more frequent smaller meals elevate the metabolism, and provide a steady boost of energy throughout the day.
The SlimPlate System provides plates with clearly marked lines that delineate the portions for the different groups of food. Fruits, grains, vegetables and proteins are all kept within differently colored lines for easy portion-control. For items like sandwiches or a pancake, the special "Portion-Control Cutters" are placed over the items, the user presses down, the correct portion is instantly served. This makes it easy to lose weight, and is a lot more fun. As the pounds are shed, the user becomes more enthusiastic, and it becomes a way of life.
When the SlimPlate System was in beta testing, it became clear that it was on its way to becoming a huge success. Industry insiders comment that SlimPlate System portion control kit would set the pace in weight-loss for some time to come. The two physicians who co-invented the SlimPlate System are Dr. Myo Nwe and Sandeep Grewal, M.D. Dr. Nwe is a Diplomate of the American Board of Obesity Medicine and is Board-Certified in Internal Medicine. She co-founded the Ace Medical Weight Loss Center with Dr. Grewal. Sandeep Grewal, M.D. is Board-Certified in Internal Medicine and was the recipient of the Charlotte Business Journal's Healthcare Innovator Award for 2012, and also named to the Top Forty Under Forty List in 2013.
For complete information on weight-loss through portion-control, visit: The SlimPlate System