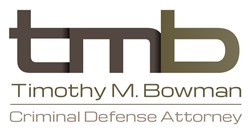 To say Tim is an excellent attorney is an understatement. If I were ever in need of an attorney again it would be him."
Portland, Oregon (PRWEB) October 17, 2013
Timothy M. Bowman is a Portland criminal attorney with 30 years of experience. He recently updated his website with a new look, and a new domain name. His services remain the same.
The website moved from tbowmanlaw.com to timbowmanportland.com. His main email address is still tim(at)tbowmanlaw(dot)com.
The new domain name comes with a new updated look as well. The design is simple and modern, with an emphasis on making it easy to connect with him. The logo features his initials and fits the theme of modern simplicity that he says he wanted to embody.
A few testimonials are featured on the home page as well. A sampling is listed below.
"To say Tim is an excellent attorney is an understatement. If I were ever in need of an attorney again it would be him." -Amy
"What impressed us the most about Mr. Bowman was his compassion and sensitivity towards our situation." -Yvette B.
"Thanks Tim. You were essential in getting me out of trouble. Excellent work and very personable." -Mike O.
Bowman says his blog will now be updated nearly every day of the work week with informational videos and explanations of recent decisions by the Court of Appeals of the State of Oregon as well as other court cases.
Updates will also be found on his Facebook, Twitter, and Google Plus pages.
Though the site is changing, Bowman says his services are all the same. His website states that his practice areas are sexual offenses such as rape, child sexual abuse, and sodomy, assaults such as self defense, vehicular assault, or domestic violence, thefts such as shoplifting or embezzlement, weapons offenses, and any charges relating to drugs. The site says he also works with cases that cover juvenile delinquency, expungements of arrests and convictions, relief from sex offender registration requirements, and Measure 11 defense.
Bowman says he has a passion for helping people through these stressful situations. "In 30 years I have had the privilege of seeing the relief and joy of clients and their families when they hear the judge or jury announce their verdict of not guilty."
Some of Bowman's past cases are explained on his site as well. Two of the case examples are listed below.
"A law enforcement supervisor was accused of shop-lifting when the loss prevention agents followed him to his truck with a shopping cart filled with items that had not been paid for. The agents had understandably jumped to a conclusion, but the conclusion was wrong. The detour to the truck was to check on his dog, not to steal merchandise. Cross-examination showed that the agents shaped and coordinated their testimony. The jury was unconvinced, and after a lengthy deliberation returned a unanimous verdict of Not Guilty."
"A man bumped into his neighbor while helping her take down some decorations stored in her garage. She claimed he touched her breasts and made an inappropriate comment. He said he bumped into her by accident and excused himself in his native language, Russian. We attempted to put on witnesses who believed my client to be a man of excellent character in respect to sexual propriety, but the judge refused to allow this testimony. We handled the appeal and obtained a reversal and helped establish and improve the law of character evidence. The prosecution declined to re-prosecute. Charges dismissed."
Bowman urges people to contact him if they are facing or believe they could be facing criminal charges of any kind.