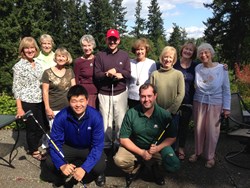 The Golf Channel Amateur Tour provides an authentic PGA TOUR experience to players of all abilities. Compete with golfers at your skill level; gain access to top courses in your area and across the country.
Port Ludlow, WA (PRWEB) October 08, 2013
Tirelessly Vito DeSantis, PGA Director of Golf at The Resort at Port Ludlow leads his team of pro's Darren Posey and Adam Barrows on October 3rd to play 400 holes, with 44 birdies, 264 pars, and a total of 1658 strokes as part of a golf marathon which has to date, raised over $7,000 for Seattle's Children's Hospital. All in a days work as DeSantis and team prepare to host The Golf Channels Pro Amateur Golf Tour on November 9, 2013.
The Seattle portion of the Golf Channels Pro-Am Tour concludes its fall tournaments with The Port Ludlow Open at the picturesque Port Ludlow Golf Club. Designed by Architect Robert Muir Graves, Port Ludlow Golf Club provides a challenging and rewarding golf experience within spectacular natural surroundings. The lush greens and fairways offer extraordinary views of the Hood Canal, Ludlow Bay and the Olympic and Cascade Mountains. Port Ludlow Golf Club was named Top Course to Play in 2012 by Golf Week, "Most Scenic in the World" by Esquire Magazine and the Official Best Golf Resort in Washington 2011.
An Entry Fee of $105 includes greens fees, cart fees, range balls, trophies and a generous player prize fund. An optional $20 skins game will be made available to interested players at check-in.
Nov 9 8:00 AM - 11:45 AM Registration / Check-In
Nov 9 9:00 AM - 12:00 PM Start Times
Nov 9 1:30 PM - 5:00 PM Awards
You must register by November 2, 2013 at 11:59 pm The event will play hosts to 2 National Champions; Oakley Murphy - open division, championship flight winner
Ray Henry - senior division, Palmer flight winner.
Contact Vito DeSantis, PGA Director of Golf
to find out more about The Resort at Port Ludlow Golf Club and Course and this years Golf Channel Pro Am Tour:
The Resort at Port Ludlow
751 Highland Drive
Port Ludlow, WA 98365
P: 360-437-8270 | F: 360-437-0637
VDeSantis@portludlowresort.com
http://www.portludlowresort.com |