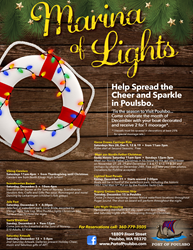 Have at least 25 percent of your boat decorated with lights—and you can stay one night for free!
Poulsbo, WA (PRWEB) November 19, 2015
The Port of Poulsbo is celebrating the holiday season with a first-annual "Marina of Lights." Hoping to rival the land-locked neighborhoods of red-nosed reindeer and rooftop Santas, this month-long event promises to reflect double the dazzle.
This is the plan: Puget Sound boaters already love the Port of Poulsbo as a boating destination. It's easy to sail into the protected harbor of Liberty Bay, and the moorage and dock space is nestled up to the historic downtown, with its galleries, shops, restaurants, and brew pubs. To make the festivities even brighter, the Port of Poulsbo is enticing visiting boaters to get into the holiday spirit and string their boats with lights and festive décor. In fact, powerboats and sailboats alike are getting a very special offer: Have at least 25 percent of your boat decorated with lights—and you can stay one night for free!
It's a 2-for-1 special—stay two nights, but only pay for one. And it runs the entire month of December.
Two nights. In lovely downtown Poulsbo. Snug in your own boat, surrounded by the twinkling lights reflecting off the water. Just steps from coffee shops, the bakery, your last-minute Christmas shopping, a late lunch with a good wine, a browse for a good book, then back to your cozy cabin for a read and maybe a nap. Could there be a more perfect winter weekend?
How about visiting during some of the very special, holiday events?

December 5: Jule Fest, with the Vikings escorting the Lucia Bride to light the Yule Log
December 5: Scandinavian Bazaar
December 11: Poulsbo Yacht Club's Lighted Boat Parade
December 12: Saturday Artwalk at all downtown galleries
December 15: Argosy's Christmas Cruise
Saturdays: Christmas carolers, Father Christmas, horse-drawn carriage rides
Shops are open until 8 p.m. on Fridays and Saturdays
For more information—and to reserve your space—contact Jannese Petersen, Guest Services Coordinator, Port of Poulsbo Marina, 360-779-3505, ext 1 or email her at reservations(at)portofpoulsbo(dot)com.
The Port of Poulsbo operates a first-class destination marina, the Poulsbo Marina, for both recreational and commercial vessels. Its popular mountain views are surrounded by numerous recreational opportunities; and natural, historic, scenic, cultural and dining pleasures. Separated from the main body of Puget Sound through a narrow passage, it is indeed a safe harbor in a storm and is protected from the gales associated with this area.