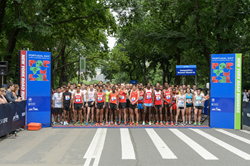 "Due to the type of audience it attracts, Portugal Day NY allows for the promotion of our culture, brands and artists to a very desirable niche of the American market", - João Francisco, Portuguese Circle
New York, NY (PRWEB) May 16, 2014
June 15, 2014 will be a special day in New York. The fourth annual Portugal Day NY will take place in Central Park. The event's main objective is to promote Portuguese culture, tourism, brands and products, not only to the American public but also to all foreigners that live and visit New York that time of the year. Several Portuguese entities will be present, contributing to a better understanding of the best that Portugal has to offer.
Set in New York's iconic Central Park, the event will consist of a 5-mile race for adults (8Km), kids' races for ages 2 to 12. This event will also showcase Portuguese music, products and food. It is expected that more than 7,000 runners will take part in the event. They will be competing for trips, hotel stays and entries to running events in Portugal.
Portugal Day NY 2014 will once again have the honor of obtaining the High Patronage of His Excellency the President of the Portuguese Republic, Aníbal Cavaco Silva. This is a reflection of the importance the event has in the promotion of Portugal and its culture.
"Due to the type of audience it attracts, Portugal Day NY allows for the promotion of our culture, brands and artists to a very desirable niche of the American market," said João Francisco, Managing Director of the event and President of the Portuguese Circle.
This year we will have 3 different musical acts, with a wide scope of musical styles being represented. John Jorge, Ménage and Claudia Duarte will surely satisfy all musical tastes, from contemporary to traditional fado music. In addition to this array of artists, fado singer Nathalie Pires will once again be on hand to provide us with her moving interpretations of the American and Portuguese national anthems at the start of the races.
There is currently a call for volunteers to help out the day of the event; for additional details on how to enroll as a volunteer, please visit our website: http://www.portuguesecircle.com.
The event is an initiative of the Portuguese Circle, a group of Portuguese residing in New York City, who, in partnership with New York Road Runners, combine efforts to make the Portugal Day NY a reality.
For additional information, visit our website http://www.portugaldaynyc.org, or send an email to press(at)portugaldaynyc(dot)org.
About Portuguese Circle
The Portuguese Circle is a non-profit organization of Portuguese people living in and around New York City, whose objective is to promote Portugal and its culture. To that end, the Portuguese Circle organizes on a regular basis networking, and cultural events. For additional information, visit http://www.portuguesecircle.com.
New York Road Runners
Headquartered in New York City, New York Road Runners is dedicated to advancing the sport of running, enhancing health and fitness for all, and meeting our community's needs. Our goal is to use the expertise acquired in our 52-year history to empower all people to live fitter, healthier lives through participation in our races, community events, instruction and training resources, and youth programs. Our races and other events draw more than 300,000 people each year. The ING New York City Marathon, NYRR's premier event, is the largest and most inclusive marathon in the world, attracting the world's top professional runners every year and raising $30.8 million for charity in 2010. NYRR's running-based youth programs, which currently serve more than 100,000 children in hundreds of schools and community centers, promote children's health and fitness, character development, and personal achievement in underserved communities. For more information, visit http://www.nyrr.org.