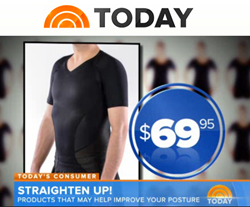 We are now able to fulfill all orders, but for how long, at this sales pace, is unknown.
San Luis Obispoc, CA (PRWEB) November 18, 2014
Posa Wear made its TV debut on Saturday, Oct. 11, 2014 and since has struggled to keep up with demand.
"Large and X-Large sizes sold out first," a company representative said. "However, we were expecting a new shipment of inventory so the back-order wait was only 1-2 weeks. We are now able to fulfill all orders, but for how long, at this sales pace, is unknown."
Posa Wear ($69.95) was recommended by the panel since citing that could feel it pull their shoulders back, however the reviewers awarded Posa Wear a "B" rating due to the cut of the shirts, stating the arm bands were too tight. Since the reviewers evaluated the shirts, Posa Wear has made an adjustment to their sizing chart, now offering X-Large sizes in both the Slim and Regular fitted shirts. Posa Wear advises that the arm circumference is the most important factor in determining the correct size for the wearer since it is intended by design to be snug but not restrictive.
Posa Wear is an affordable option for all-day posture support, priced nearly 30% lower than most other posture shirt competitors. It offers moisture management, maximum comfort, and temperature control. The Posa Wear compression garment is made from a high performance material that provides stretch and comfort, with mesh panels in the underarm, side, and back panels and moisture-wicking materials used throughout the garment. By reducing friction, Posa Wear minimizes chafing and rashes typical with active sports, improving your body's health and preventing skin injury.
For more information on how to purchase, please visit the Posa Wear website, or for wholesale inquiries, e-mail the company at CustomerService(at)PosaWear(dot)com.