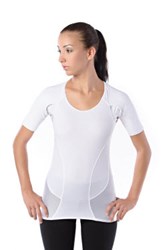 Customers have asked for larger sizes, and Posa Wear is listening.
San Luis Obispo, CA (PRWEB) January 22, 2014
Customers have asked for larger sizes, and Posa Wear is listening. It is only the first month of the year, and posture has already been a hot topic, reaching Google news feeds an average of four times a day. From specialized space suits for astronauts to the hottest celebrity's latest yoga pose, good posture is a highly sought-after attribute. That's why Posa Wear is responding to the demands of its clients by expanding size selection to include XL.
A sale date has not yet been released, but Posa Wear welcomes customers to join their email list for exclusive updates on sizing and other exciting news about their product line. They can add themselves to Posa Wear's email list here.
A small change in posture by wearing the new Posa Wear can help combat multiple posture-related issues, including the improvement of energy levels, increased confidence, lessening of back and neck pain, and the possibility of lowering health care costs resulting from complications of poor posture.
Posa Wear is a cutting edge company providing quality Performance Shirts as an affordable alternative to other posture shirts on the market. Products are designed with moisture management, maximum comfort, and temperature control. The Performance Shirt is made from a high performance material that provides the stretch and comfort found in many high performance athletic garments, with mesh panels in the underarm, side, and back panels and moisture wicking materials used throughout the garment.
Learn more at http://www.posawear.com, and follow Posa Wear on Facebook at https://www.facebook.com/Posawear.
To purchase PosaWear Performance Shirts, visit the website at http://www.posawear.com or contact CustomerService (at) posawear (dot) com.