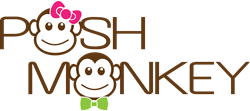 We have one goal in mind - helping make your little monkey's look posh!
Sewickley, PA (PRWEB) April 10, 2015
Posh Monkey, a trending children's boutique in the heart of Sewickley, PA, announces their grand opening and official ribbon cutting ceremony Saturday, April 11 at one o'clock in the afternoon.
Join owners Lori Bereznay and Lindsey Braley as they officially open their posh doors with the help of an expert balloon artist who can create your kids' favorite characters—even Elsa!
The owners chose Sewickley as the location for Posh Monkey because the village is a well-known shopping destination that boasts unique shops and boutiques for shoppers looking for that special something you just can't find in the mall.
Opening for a just a few days in March, owners Lori and Lindsey found that even with partially stocked shelves, shoppers responded extremely well to the sample inventory. They worked tirelessly to ensure the shelves were stocked with some of the best selections for the grand opening and beyond.
"During our recent trip to New York, we met with designers to review some of their
best lines," said Lindsey, "this resulted in some great buys which are sure to impress our
customers."
Posh Monkey evolved over time but from a singular vision. The owners Lori and Lindsey met in college and after graduating both pursued successful careers, though in very different disciplines. Lori pursued fashion merchandising while Lindsey had her sights set on nursing. Once they became moms, however, they both made the decision to leave the workplace to stay at home full-time to raise their children.
Talking over the course of many play dates, Lori and Lindsey realized it was truly a struggle to find quality clothes for their little monkeys. The idea behind Posh Monkey was born out of the goal of making it simple to find great fashion and accessory options made by quality designers like Persnickety, Haute Baby, Lemon Loves Lime, Rufflebutts, Mimi & Maggie and more—all at one destination. "We could not be more excited to be on this journey together," said Lori, "we have one goal in mind - helping make your little monkey's look posh!"
Posh Monkey invites you to join in and celebrate with them Saturday. Ribbon cutting is at 1:00PM and activities will be ongoing from 12:00-4:00 PM.
About Posh Monkey
Posh Monkey is a trending children's boutique in the heart of Sewickley, PA. The store combines fun and fashion with some of the most well-known and unique designers and accessory lines for children. With a wide selection of different lines, Posh Monkey caters to growing boys and girls, infant through size 8—with specialty featured items that change regularly for mom. The store was built on a vision with one goal in mind - helping make your little monkey's look posh!
To learn more about Posh Monkey visit us online http://www.myposhmonkey.com