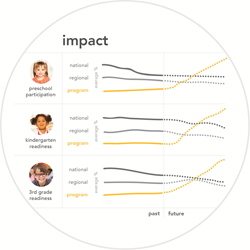 As our mission is about measuring progress, we are delighted to partner with United Way as it takes on this important work. ~ Elizabeth Dreicer, CEO and founder of Posiba
San Diego, CA (PRWEB) February 16, 2016
Posiba, an information service for the social sector, announces a partnership with United Way of San Diego County that will help them better understand their results, and their partner organizations' impact on San Diego's community. Posiba will help United Way gather, benchmark, and track data for continuous learning and elevate and replicate best practices to better support families and early learners across the county.
"As our mission is about measuring progress, we are delighted to partner with United Way as it takes on this important work," said Elizabeth Dreicer, CEO and founder of Posiba. "The social sector is just beginning to experience the benefits of widespread access to useable multi-sourced measurement data. Notably, their leadership will inspire others; including those they fund, to leverage data as a means to improve performance. This is how we all get better."
The world of data, both public and private, is growing exponentially. The social sector can also use this information. Posiba helps customers make sense of and glean meaning from this mass of information, helping them find relevant, meaningful metrics.
"Today's donors and corporate sponsors want to give where it matters and want to know they're making a difference. United Way is committed to measuring and tracking data for continuous learning to make sure our efforts have the greatest impact possible." said Shaina Gross, SVP, Chief Impact Officer. "With Posiba's help, we look forward to showcasing how our work, especially in kindergarten readiness and early grade literacy, positively impacts our community."
About United Way of San Diego County
By working with nonprofits, schools, businesses and community leaders, United Way of San Diego County tackles the issues that impact children and families in San Diego. The nonprofit plays a unique role, bringing the right people and resources together to spark breakthrough community action that elevates every child and family toward a brighter future. Through a Collective Impact model, United Way solves complex problems by maximizing existing community partners/resources and establishing common goals to create permanent change in the community. United Way's efforts include anchoring the City Heights Partnership for Children and being a key partner in the upcoming Vista Partnership for Children. LIVE UNITED is a call to action for everyone to get involved by donating and volunteering. Learn more at uwsd.org, the blog, Facebook and Twitter. With 2.6 million volunteers and 9.6 million donors worldwide, and more than $5 billion raised every year, United Way is the world's largest privately-funded nonprofit. United Way is engaged in nearly 1,800 communities across more than 40 countries and territories worldwide to create community solutions that improve life for everyone. For more information, please visit UnitedWay.org. Follow us on Twitter: @UnitedWay and #LiveUnited
About Posiba
Posiba expands what's possible by expanding what's knowable. Posiba is an information service (SaaS) for the social sector—foundations, government, nonprofits, researchers and individual donors. The mission: To measure social conditions and progress, to activate more individual giving and satisfaction, and to power more capital to efficiently flow to and through the philanthropic sector. Posiba democratizes access to information by collecting and curating data—from hundreds of thousands of public, private and crowd-originated sources—and brings tools, analytics and crowd-sourced intelligence to help the social sector know more about the impact they're having. Customers gain the ability to make use of the new data becoming available around the world and identify trends and factors designed to steer results in positive directions. Customers of the affordable, subscription-based web solution gain the means to share insights, make better informed decisions and discover how to make a bigger collective difference. For more information, visit posiba.com.
Media Contact: Liz H Kelly, 310-987-7207